Hawkeye Fan Shop — A Black & Gold Store | 24 Hawkeyes to Watch 2016-17 | Hawk Talk Monthly — June 2017 | 2017-18 Schedule
IOWA CITY, Iowa — A 100-year celebration of the University of Iowa swimming and diving program headlines the 2017-18 schedule, it was announced Wednesday by UI head coach Marc Long.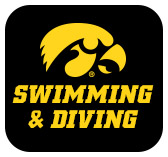 The 100-year celebration will be held in conjunction with the opening weekend of the regular season from Oct. 5-7.  The Hawkeyes will host Michigan State and Northern Iowa in a two-day meet for their season-opening dual at the Campus Recreation and Wellness Center.
 
Following the dual, there will be an Alumni Meet at 2 p.m. (CT) at the CRWC before alumni can take in Iowa's annual Homecoming festivities.  A program will follow at Big Grove Brewery that evening.
 
Alumni will have the opportunity to mingle on the Field House Pool deck from 7-9 a.m. on Oct. 7 before alums can take in the Iowa-Illinois football game at 11 a.m.
 
Iowa's first competition of the 2017-18 season will be Sept. 30 when it hosts the annual intrasquad meet.  The Hawkeyes will also host a Big Ten dual against Minnesota on Oct. 27 — a meet that will serve as Senior Day.
 
After opening November with a Big Ten dual at Purdue, the Hawkeyes will send divers to the Minnesota Diving Invitational from Nov. 7-9 and the team will compete at the Minnesota Jean Freeman Invitational from Nov. 30-Dec. 2. The Iowa women travel to Ames, Iowa, for the annual Iowa Corn Cy-Hawk Series clash on Dec. 8 and the divers will head to the USA Diving Winter Championships later in December.
 
Once the calendar turns to January, Iowa's men's and women's teams will travel to Champaign, Illinois, to take on Notre Dame and the Fighting Illini women.  Iowa squares off against Northwestern on Jan. 20 in Evanston, Illinois.
 
Following the two-day Shamrock Invitational in South Bend, Indiana, from Jan. 26-27, Iowa rounds out its dual slate with a home date against Western Illinois on Feb. 2 in its final tune-up before championship season.
 
The 2018 Big Ten Women's Championships (Feb. 14-17) and 2018 NCAA Women's Championships (March 15-17) will be held in Columbus, Ohio, while the 2018 Big Ten Men's Championships (Feb. 21-24) and 2018 NCAA Men's Championships (March 22-24) will take place in Minneapolis. 
 
The NCAA Zone D Diving Championships will be held from March 5-7 in Minneapolis.