Hawkeye Fan Shop — A Black & Gold Store | Fight For Iowa | Hawk Talk Monthly — June 2017 | Tickets For Heroes | VIDEO — Gerdin Family Announcement
IOWA CITY, Iowa — From walk-on to 2016-17 Big Ten Conference Sixth Man of the Year, Nicholas Baer (Class of 2018) has become an integral part of the University of Iowa's men's basketball team. While Baer has flourished on the court, he's also grown in the classroom, thanks to support and guidance of the staff at the Russell and Ann Gerdin Athletic Learning Center.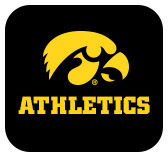 "Science courses are not my strong suit, but I do enjoy them," says Baer, a communications studies major. "I recently struggled with an astronomy class, and my tutor at the Gerdin Athletic Learning Center helped me better understand some of the major concepts — the various moon cycles, orbital measurement, and the functions of eclipses. The academic advisors and tutors at the Gerdin Athletic Learning Center are a great asset for student-athletes because they work around our busy schedules and encourage academic success."
 
Baer isn't alone when it comes to using the educational services — tutoring, group and individual study sessions, and more — that the Gerdin Athletic Learning Center offers. On most nights, hundreds of student-athletes study together, meet with tutors, and fuel up at the nutrition center.
 
"The Gerdin Athletic Learning Center is used by all 689 student-athletes at Iowa," says Baer. "Right now, there simply isn't enough space."
 
Today, a familiar Hawkeye family is giving back to provide Iowa student-athletes with the academic space and resources needed during their time on campus. The Ann Gerdin family, of Solon, Iowa, has made an additional $5 million commitment to Hawkeye athletics, which will help fund renovations and programming at the Gerdin Athletic Learning Center. While the facility will see additional study rooms, a commons, and a café, programming such as the Hawkeye Life Program — a life skills and leadership development program — will gain added support to help student-athletes succeed professionally.
 
Construction work at the Gerdin Athletic Learning Center will begin July 31, 2017, with an anticipated completion date of spring 2018.
Iowa's student-athletes continue to excel in the classroom. Here's how:
 

This past year, Iowa's student-athletes graduated at an all-time high of 90 percent.
Iowa's student-athlete Graduation Success Rate (GSR) is second-highest in the Big Ten Conference.
Iowa's student-athlete GSR is highest among Iowa's four Division I institutions.

 
"Our student-athletes have extremely busy lives, and that means they learn and study at all hours," says Liz Tovar, UI associate athletics director of student-athlete academic services. "Our student-athletes also learn and study in varying ways, and thanks to support from the Gerdin family, we can continue to provide all student-athletes with a safe and stable environment to achieve academic success."
 
Ann and the late Russell Gerdin — founders of Heartland Express, a nationwide company specializing in logistics and transportation — started giving back to the UI in 1980, and their leadership gift to Hawkeye athletics helped build the Russell and Ann Gerdin Athletic Learning Center in 2003. Since then, the next generation of Gerdins — Mike and Nicole Gerdin (1993 B.A., 1994 M.A.), Julie and Eric Durr, and Angela and Brian Janssen — have joined with Ann Gerdin to carry on the family tradition of philanthropy. Countless student-athletes and Hawkeye fans have benefitted from the family's consistent support of Hawkeye athletics, while patients have benefitted from the family's generous gifts to the new UI Stead Family Children's Hospital.
 
Through the breadth of such interests and the desire to improve the lives of others, the Gerdin family is making a lasting difference at the UI. Private support from individuals such as the Gerdins is important because Hawkeye athletics is 100 percent self-supporting and receives no state funding.
 
"Our family is excited to help Hawkeye student-athletes win, graduate, and do it right," says Mike Gerdin, president and chief executive officer of Heartland Express Inc. "We're proud to be supporting the next generation of Hawkeyes in the classroom and in competition — all in an effort to prepare them to take on the world."
 
According to the most recent NCAA annual report on academic success, Iowa student-athletes are graduating at an all-time high of 90 percent, which is second-highest in the Big Ten Conference and is highest among Iowa's four Division I institutions. Iowa's student-athletes also boast higher graduation rates than traditional students. Because just two percent of all student-athletes go on to play professionally, the services and resources that the Gerdin Athletic Learning Center offer continue to be vital.
 
"Success in the classroom is a team effort that starts with our student-athletes seizing the academic opportunities available at the UI with the same vigor they tackle their goals in athletics," says Gary Barta, who holds the Henry B. and Patricia B. Tippie Director of Athletics Chair. "Thanks to the generous support of people like the Gerdin family, we are able to provide our student-athletes with the resources to help them succeed."