Hawkeye Fan Shop — A Black & Gold Store | 24 Hawkeyes to Watch – 2017-18 | Fight For Iowa | Media Day Photo Gallery | Shymansky Media Day Transcript
Editor's Note: The following first appeared in the University of Iowa's Hawk Talk Daily, an e-newsletter that offers a daily look at the Iowa Hawkeyes, delivered free each morning to thousands of fans of the Hawkeyes worldwide. To receive daily news from the Iowa Hawkeyes, sign up HERE.
By RICK BROWN
hawkeyesports.com
IOWA CITY, Iowa — Reghan Coyle joined Iowa's volleyball program with a handful of dreams.
 
The junior from Council Bluffs, Iowa, arrived as a walk-on, with hopes of cracking the starting lineup and earning a scholarship. She also wanted to get into pharmacy school.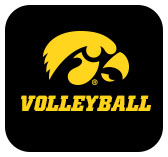 Mission accomplished.
 
 "Talk about a one-two punch," Iowa head coach Bond Shymansky said at the Hawkeyes' annual Media Day on Friday at Carver-Hawkeye Arena. "That's a pretty impressive person."
 
Coyle got accepted into pharmacy school in January and starts her four-year journey to her Pharm D. degree this fall. She was also named Iowa's most improved player last season, playing in all 32 matches and 110 sets and averaging 2.17 kills from the right side.
 
"Earning a scholarship as a walk-on meant I improved as a player," Coyle said. " But knowing that I had an impact on my teammates, and my teammates voted me most improved, had a big impact on me, too."
 
Coyle was a junior at Lewis Central High School in Council Bluffs when she decided to pursue college volleyball.
 
"I didn't know what level I could play at," she said. "I talked to the Iowa coaches and figured it could be a possibility here. And I knew they had a great pharmacy school here."
 
So Iowa it was, much to her family's delight.
 
"I grew up a Hawkeye fan," Coyle said. "My family's been Hawkeye fans since I was born. It was always in the back of my head to become a Hawkeye."
 
Her interest in pharmacy came when she was a senior in high school. She had decided that a career in health care is what she wanted. She job-shadowed a friend at a hospital in Council Bluffs and zeroed in on pharmacy.
 
No guarantee came with those dreams when she arrived in Iowa City.
 
"It's one of those things where you don't know what to expect, and you go in blind," Coyle said. "Just work hard and hope for the best. Everything has worked out."
 
Coyle broke into the starting lineup late in her freshman season, and has been there since. A scholarship came in the spring of her sophomore season. She was actually shopping with her mother, Andrea, at the end of Christmas break when Shymansky called her with the news. As she talked to her coach, she played coy with her mom.
 
When Reghan hung up, her mom asked what the call was about.
 
"I said, "I got a scholarship,' " Reghan told her mom.
 
Shymansky said that Coyle had "a great journey" last season, and expects her role to expand as a junior.
 
"She's not a woman of many words," Shymansky said. "It's more of, 'I'm going to get it done, keep sweating and doing it.' We expect her role to grow. We expect her to be stable and continue to be competitive."
 
And improve her funny bone.
 
"The worst part is she thinks she's funny," Shymansky said. "She's not. She busts my chops more than any other player on the team."
 
Coyle said she's got a dry sense of humor.
 
"He says I'm not funny, but I know he laughs at me a lot," Coyle said.
 
Her schedule is not a laughing matter. Balancing athletics and pharmacy school is demanding.
 
"The past two years have been pretty jam-packed with prerequisites," Coyle said. "I'm used to finding that balance between athletics and academics."
 
Two days into classes next week, Coyle and her teammates fly to California to start the season.
 
"I'll be missing half a week of class already," she said. "But I'm used to it."
 
The Hawkeyes open the season Aug. 25 at the Long Beach Invitational, playing the host school, defending NCAA champion Stanford, and Wright State. The powerful Big Ten slate looms on the horizon, another reason Iowa's strength of schedule ranks second nationally.
 
The Hawkeyes were 19-13 overall and 9-11 in Big Ten play last season, the first winning season since 2000 and the most wins since 1994. 
 
"We want to get to the NCAA Tournament," Coyle said. "We came so close last year. That's our biggest goal."