Hawkeye Fan Shop — A Black & Gold Store | 24 Hawkeyes to Watch – 2017-18 | Hawk Talk Monthly — June 2017 | Photo Gallery
IOWA CITY, Iowa — The University of Iowa volleyball team met inside Carver-Hawkeye Arena on Saturday for its annual Black and Gold Scrimmage, giving Hawkeye fans their first look at the 2017 Iowa roster.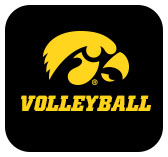 The Iowa roster was introduced to Hawkeye fans prior to drills and a four-set match. Following the scrimmage, student-athletes met with Hawkeye fans and signed autographs.
 
Hear From Coach Bond Shymansky
On today's performance…
"Today was a great production and a great process. I think we had a really strong finish to our preseason training regimen. We start school on Monday, so we needed today to get out here and work hard as a group. Everybody got a lot of playing time today, so we will have a lot of video to watch as a staff and team."
 
On the newcomers…
"I thought our new players really did a great job. They are still trying to figure out and feel out where their value is, and that is what preseason scrimmages are for. We really have had a great journey so far this preseason and have loved the experience of True Mental Toughness with our group."
 
Hear from the Hawkeyes
 
Annika Olsen on today's performance…
"I think today was really cool for us to all come together and get to show the fans what we've been working so hard on. I think it went really well. It took us a little while to get going, but we really found our rhythm in the game."
 
Meghan Buzzerio on the team's biggest strength…
"I think our biggest strength going into next week will be our consistency and our excitement for the season. We are going all out, working hard every day, and I think that shows on the court."
 
Up Next
Iowa kicks off the 2017 season Friday at noon (CT), facing Wright State at the LBSU Invitational in Long Beach, California. The Hawkeyes conclude the tournament with matches against Stanford and Long Beach State at noon and 9 p.m., respectively, Saturday.