Hawkeye Fan Shop — A Black & Gold Store | 24 Hawkeyes to Watch – 2017-18 | Fight For Iowa | Media Day Photo Gallery | Shymansky Media Day Transcript | Black & Gold Scrimmage Photo Gallery
Editor's Note: The following first appeared in the University of Iowa's Hawk Talk Daily, an e-newsletter that offers a daily look at the Iowa Hawkeyes, delivered free each morning to thousands of fans of the Hawkeyes worldwide. To receive daily news from the Iowa Hawkeyes, sign up HERE.
By JACK ROSSI
hawkeyesports.com
IOWA CITY, Iowa — The setter for the University of Iowa volleyball team in 2017 has big shoes to fill, but it's nothing freshman Brie Orr can't handle.
 
Orr's journey to Iowa is different than most. The Eagan, Minnesota, native accumulated numerous accolades before finishing high school early and arriving on campus last January.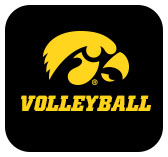 "I'm pretty good at adapting to places, so it wasn't hard," Orr said. "But it was a lot different than high school. I loved meeting the team and bonding with them right away."
 
In high school, Orr led Eagan High School to two conference titles and two state championships. She was named United States Junior Olympic All-American MVP as a freshman and was a four-time AAU All-American.
 
Orr's early arrival to college gave her a head start in meeting the team and learning how Iowa head coach Bond Shymansky operated.
 
"We began practices in March and started lifting a little before that," Orr said. "It was a good experience to go through practices and the spring games where we played in small tournaments."
 
"She got an entire offseason of training with the team and for herself to get more comfortable, and that has led to confidence for this fall already," Shymansky said.
 
Shymansky watched Orr play throughout high school and finally gets an up-close view of everything Orr brings to the table.
 
"I watched Brie play countless times throughout the recruiting process, all the way since she was 14-years-old," Shymansky said. "The one thing about her is that she always wins. She knew how to win as a club player and as a high school player. She had the competitive composure to win in big moments and was never bothered by bright lights."
 
As a setter for the Hawkeyes, Orr is the quarterback who makes all the calls during the game. Coming into college, Shymansky tested Orr's mental toughness.
 
"It was a quick transition," Orr said. "He gave me time, but he didn't baby us. I got right into it with the team."
 
"You need tough mentality in a setter," Shymansky said. "She has that innate ability to be a good leader and a smooth competitor."
 
Finding the right setter is crucial to run Shymansky's offense correctly.
 
"We like to do things that are fast and edgy with our offense and take risks," Shymansky said. "If your setter doesn't like to do that, then the philosophy doesn't come to life. We've been one of the better offensive teams in the conference because of that edginess."
 
With the second-toughest schedule in the country, Orr and the Hawkeyes will be tested early and often, including a bout against reigning national champion Stanford in the team's second match of the season.
 
"We'll get into competition this year and everything will have to go through her," Shymansky said. "She is much more veteran than she is freshman. She will have to remain patient with herself and accept a certain level of failure and have the true mental toughness to keep going forward."
 
The Hawkeyes open the season against Wright State in the Long Beach State Invitational on Aug. 25 at noon (CT).