Hawkeye Fan Shop — A Black & Gold Store
Editor's Note: The following first appeared in the University of Iowa's Hawk Talk Daily, an e-newsletter that offers a daily look at the Iowa Hawkeyes, delivered free each morning to thousands of fans of the Hawkeyes worldwide. To receive daily news from the Iowa Hawkeyes, sign up HERE.
By ALEX SNYDER
hawkeyesports.com
IOWA CITY, Iowa — Two University of Iowa men's golfers — sophomores Alex Schaake and Alex Moorman — claimed amateur golf titles this past summer.
 
Schaake won the Waterloo Open Amateur Division (July 20-23) and the Nebraska Amateur Championship (July 27-30), while Moorman qualified for the U.S. Amateur on July 17 at Finkbine Golf Course.
 
Schaake shot a final round 65 (-7) to win the 109th Nebraska Amateur Championship at Beatrice Country Club on July 30. Schaake finished the 72-hole tournament posting a 270 (-18) — the second lowest 72-hole total in Nebraska Amateur History. Schaake won the tournament for the second consecutive year.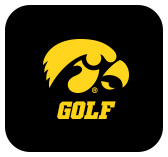 "Winning the Nebraska Amateur was a big goal of mine this summer," said Schaake. "To win in back-to-back years is a huge accomplishment. My confidence level has never been higher playing golf and I'm excited to get the season started at Iowa." 
 
Schaake, who recorded a 74.67 scoring average in his first season with the Hawkeyes, also won the Waterloo Open Amateur Division with a 54-hole score of 205 (-11). The Omaha, Nebraska, native followed the path of his older brother and former Hawkeye Carson Schaake — who won the event two out of the three previous years.
 
Schaake birdied five of his final nine holes to win the tournament by one stroke.
 
"The Waterloo open is always a special tournament for me and my brother," said Schaake. "We play every year we can and this year was even better with Carson finishing well on the professional side. The years we won were great experiences and the confidence we built from it was huge. To be able to make the putt on the final hole for par in front of my family from Waterloo was an amazing feeling and I'm looking forward to playing in the future as well." 
 
In his first season at Iowa, Schaake registered two top-20 finishes. He registered an 18-hole record of 66 (-4) at the Big Ten Championships in Baltimore, Maryland. Schaake was also the top finisher at the Paintbrush Invitational for the Hawkeyes with a 54-hole total of 218, finishing in a tie for 18th.
 
Moorman qualified for the U.S. Amateur, claiming co-medalist honors with a 36-hole total of 138 (-6; 71, 67). Moorman utilized six birdies and one eagle to propel him to back-to-back rounds under par. The U.S. Amateur was played at Riviera Country Club in Los Angeles, California, on August 14-20.
 
"Being able to qualify for the U.S. Amateur at my home course was awesome. I love playing Finkbine and the course was in amazing shape," said Moorman. "Playing in the in an event like that was an amazing experience. Riviera Golf Club is an amazing golf course and it was a treat to be able to say that I've played there."
 
Moorman joined the Iowa lineup at the midway point last year, posting a season average of 75.67, finishing in a tie for 59th at the Hawkeye Invitational this past spring.
 
The Hawkeyes open their fall season at the Gopher Invitational (Sept. 10-11) in Independence, Minnesota.