Hawkeye Fan Shop — A Black & Gold Store | 24 Hawkeyes to Watch – 2017-18 | Fight For Iowa | VIDEO — Andrea Shine
By DARREN MILLER
hawkeyesports.com
IOWA CITY, Iowa — Before Andrea Shine became a Division I athlete for the University of Iowa, she was an aspiring mathlete from Crystal Lake, Illinois.
 
The academic All-Big Ten selection still holds her own with anyone in the classroom, but now she holds her own against the nation's top distance runners as well.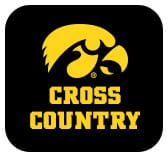 Shine's high school resume was heavily weighted on academics. She wrote for the school newspaper and was a member of Mathletes, National Honor Society, Spanish Honor Society, and Worldwide Youth in Science and Engineering. Up until eighth grade, Shine needed to walk in order to complete a mile in physical education class.
 
"I mostly had academic interests," Shine said. "I had been involved in cross country since my freshman year in high school, but I didn't find a passion for athletics until later."
 
Shine never qualified for an Illinois High School state track and field meet and made it to state cross country just once, as a senior, where she placed 78th.
 
She walked on at Iowa and used her consistency and discipline to improve. In her second season, Shine qualified for the NCAA Preliminary on the track at 10,000 meters. Surprisingly, the mark was reached the first time she competed at the 10K distance.
 
"You could see it coming," Iowa distance coach Randy Hasenbank said. "She had nice PRs in the (indoor) mile, 3K, and 5K. But it is rare to see someone debut with a national qualifying mark."
 
Hasenbank put Shine through a couple 10K-style workouts leading up to the invitational elite 10K at the Mt. SAC Relays on April 13. Once the gun sounded, Shine stayed in control and listened to Hasenbank's advice from the sidelines.
 
"That was an exciting race for me," Shine said. "I had gotten into the perfect field to execute a good performance. We wanted to make sure I could get a good effort in my first go at it. It was a perfect field to set me up for a great first race."
 
Shine was 12th in her heat with a time of 34:49.55, enough to move on to the NCAA Preliminary six weeks later in Austin, Texas. She finished 29th in the national semifinal (36:12.05) among a field that eventually netted the top five places in the NCAA final.
 
So the runner who eight years earlier was walking a mile in gym class is now rubbing shoulders with the best distance runners in the country.
 
"It is a little surreal," Shine said. "I have always been somebody who works as hard as I can to be the best version of myself. In high school, I worked hard and took every opportunity, but I was also kind of late to the game. I started running a little later than some of the other girls. It took the right coaching and the right amount of time to let my hard work accumulate into these great payoffs."
 
Shine began her junior cross country season after setting personal bests last season in track in the mile (5:06.50) and 3,000 (9:54.69) indoors and the 1,500 (4:44.66), 5,000 (16:40.19), and 10,000 outdoors. In cross country, she is coming off a 66th-place finish at the Big Ten Championship and a 90th-place showing at the NCAA Regional.
 
"I don't have time goals for this fall," Shine said. "I want to see my name move up in the rankings in every race."
 
Iowa placed 11th at the 2016 Big Ten Championship with 318 points. Shine was the second Hawkeye to cross the finish line behind Tess Wilberding, who has graduated. But Iowa returns five runners who competed in the postseason.
 
"We need front-runners," Hasenbank said. "We got a lot of improvement out of some of the young gals; we watched them improve throughout the year with the indoor and outdoor track meets.
 
"Last fall in cross, we didn't get to where we wanted to be. The entire women's team came on and posted a lot of personal bests and did great things, but we have a long way to go and Andie has to help lead us."
 
Shine is pursuing an English degree with a minor in environmental policy. Her goal is to attend law school, something that was reinforced after completing a summer internship doing legal research at an appellate court. She loved dipping her toes in the water to make sure a career in law was what she wanted.
 
This fall those toes will be counted on to set a quick and steady pace that not only lifts Shine up the postrace leaderboard, but helps Iowa's team climb as well.
 
"My levels of motivation are greater now that I have had so many great results on the track," Shine said. "Everything feels a little more worth it. I can see the developments that have happened because of the strength training and stretching and nutrition I do. It's not quite as hard to motivate yourself."
 
Shine was Iowa's No. 1 runner when the Hawkeyes opened the season Sept. 1 at the Hawkeye Invitational. She placed sixth overall with a four kilometer time of 13:58.7.