Hawkeye Fan Shop — A Black & Gold Store | 24 Hawkeyes to Watch – 2017-18 | Fight For Iowa | Hawk Talk Monthly — October
Editor's Note: The following first appeared in the University of Iowa's Hawk Talk Daily, an e-newsletter that offers a daily look at the Iowa Hawkeyes, delivered free each morning to thousands of fans of the Hawkeyes worldwide. To receive daily news from the Iowa Hawkeyes, sign up HERE.
By JAMES ALLAN
hawkeyesports.com
IOWA CITY, Iowa — Swimming has always been more than a sport for University of Iowa freshman Kelsey Drake, it is a lifestyle.
 
That has been a recipe for success for Drake, a butterfly and individual medley swimmer from Marion, Iowa.  It is what made her an Olympic Trials qualifier in 2016 and helped her become one of the state's top swimmers.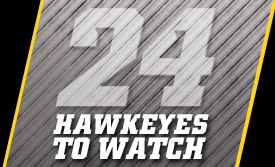 "My whole life I have wanted to be an elite swimmer," said Drake. "Swimming is a lifestyle, it takes up a huge part of my life. My social life revolved around it, too, because all my friends are swimmers. That's a good thing, because it reminds me of my goals so I can be focused."
 
Drake first found herself in the water at the age of 2 when her mother, Jennifer, enrolled her in swimming lessons. By 5, she was swimming competitively with a local club team.  She grew up idolizing her older brother, Kean, although her swimming took a slightly different path.
 
"My brother was always swimming and winning medals," said Drake. "I thought that was cool. I wanted to do the things he was doing, although he was a distance swimmer."
 
Drake swam and played softball until eighth grade, but then she made a choice.
 
"(The choice) was swimming," said Drake. "I loved it so much; practicing and competing. It was so different than all the other sports I played."
 
Drake loves swimming's daily grind and grueling workouts even though they can lead to aches, pains, and mental battles.
 
"It feels so good after you have completed (the workouts)," she said. "You feel accomplished and it's such a good feeling. Sometimes it hurts so bad and I am like, 'Why do I do this?'  But at the end of the day, I love it."
 
It's that attitude that drew Iowa head coach Marc Long to Drake during the recruiting process.  That and Drake's stellar resume.
 
"She changes the dynamic," said Long. "She's a no nonsense trainer and competitor. Right away in practice, she is doing special things. We feel with that work ethic, it's contagious for her group and that's a good group she is in."
 
Drake swam her freshman season at Cedar Rapids Jefferson High School and she competed at cross-town Linn-Mar High School as a sophomore and senior.  She didn't compete as a junior, while training for the United States Olympic Team Trials.
 
She competed in the 100-meter butterfly at the CenturyLink Center in Omaha, Nebraska — an experience she will never forget.
 
"It was amazing," said Drake. "It was the best experience I ever had. The atmosphere was so crazy. I was in the first heat, so the heat in front of me was a big heat with a lot of (notable swimmers). I was walking out and the crowd was going crazy."
 
In high school, Drake was a three-time All-American, earning the distinction twice in the 100 fly and once in the 200 IM. She qualified for Junior Nationals from 2013-16 and was a three-time Iowa high school state champion.
 
The 45-minute drive from Marion to the University of Iowa wasn't a done deal.  Drake narrowed her college choices to four schools, but in the end, she felt most comfortable in Iowa City.
 
"It's a special feeling," said Drake. "I grew up being a Hawkeye and both of my parents went here. It wasn't a hard choice since I have always been a Hawkeye. Going to other colleges, it didn't feel the same.
 
"I loved the team atmosphere here and I loved the team on my trip.  I know Iowa City well; I have been here a lot for club meets. It has always felt like home."
 
Long has been impressed with Drake through early-season workouts and he is excited about Drake's future.
 
"We see a lot of potential," said Long. "She'll have an impact right away in the Big Ten and we think she can qualify for NCAAs down the road.  You want to be scoring at the NCAA meet, and she is someone we have identified and are training for that.
 
"She has a no-nonsense approach to training and she works hard in practice. She's also a great person out of the water and in school. She's dedicated to doing well."
 
Participating at the premiere national meet motivates Drake.
 
"That's my goal, I want to be top eight at the NCAAs," she said. "I want to qualify, that's a huge goal of mine. Being at any big meet motivates me; seeing all those fast times and records being broken pushes me."
 
That shouldn't come as a surprise. Swimming is the lifestyle Drake has chosen.
The Hawkeyes return to action Friday, hosting Minnesota at 5 p.m. (CT) at the Campus Recreation and Wellness Center Natatorium.