Hawkeye Fan Shop — A Black & Gold Store | 24 Hawkeyes to Watch 2017-18 | Hawk Talk Monthly — November
Editor's Note: The following first appeared in the University of Iowa's Hawk Talk Daily, an e-newsletter that offers a daily look at the Iowa Hawkeyes, delivered free each morning to thousands of fans of the Hawkeyes worldwide. To receive daily news from the Iowa Hawkeyes, sign up HERE.
By JACK ROSSI
hawkeyesports.com
IOWA CITY, Iowa — With the University of Iowa cross country season in the books, we take a look back at how the Hawkeyes closed the gap in 2017.
Iowa was a vastly improved team and it showed with regional rankings, school records, and postseason accolades.
Sophomore Nathan Mylenek led the men to their highest United States Track and Field and Cross Country Coaches Association (USTFCCCA) ranking in program history at No. 5 in the Midwest Region. He led a deep men's roster.
"They have all showed a lot of personal growth," said Iowa head coach Randy Hasenbank. "The idea of being great and the attitude it takes to be great is much improved. They were consistent during the season. We managed their training well, they managed their bodies better, and we made progress."
Mylenek won races at the Illinois State Invite on Sept. 9 and the Bradley Pink Classic on Oct. 13. He became the first Hawkeye to win multiple races in a season since Jeff Thode in 2011. Coincidently, it was Thode's record that Mylenek broke at the NCAA Regional.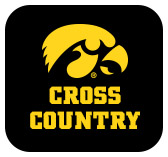 Thode's 10,000 meter record of 29:55 was broken by Mylenek at the Midwest Regional in Ames, Iowa. Mylenek's time of 29:53.2 placed him 32nd overall. In addition, senior Dan Soto (third) and sophomore Brandon Cooley (ninth) also placed in the all-time top 10.
"What I like is that it shows a competitive spirit," Hasenbank said. "Those guys got those times by competing in a big time meet and competing at a high level. Nate, Dan, and Brandon put themselves out there."
While the men entered the record books, it was junior Andrea Shine who ended a half a decade long drought. Shine became the first Hawkeye since 2012 to be named All-Region after placing 20th at regionals.
"I am proud of Andie," Hasenbank said. "The bigger story is going from 90th place to 20th place in one of the most competitive regions in the country. It was good to see that she got on the podium because I know she did everything she could to battle for one of the top four spots."
Moving forward, this should be an annual award for Iowa.
"A University like Iowa should never be shut out of the podium at the regional meet," Hasenbank said. "Twenty-five people earn All-Region honors every year and we need to be good enough to always have people on the podium. That's a threshold we need to meet if we want to talk about meeting our goals in the Big Ten and NCAA Championships."
With year two wrapped up for Hasenbank, he sees a much improved and confident team.
"A change in style is always tough on athletes," Hasenbank said. "Last fall it was a challenging adjustment and they did everything they could, but you could see the style change helped us on the track."