Hawkeye Fan Shop — A Black & Gold Store | 24 Hawkeyes to Watch 2017-18 | Hawk Talk Monthly — January 2018 | VIDEO — Chris Douglas | Douglas interns at Google
Editor's Note: The following first appeared in the University of Iowa's Hawk Talk Daily, an e-newsletter that offers a daily look at the Iowa Hawkeyes, delivered free each morning to thousands of fans of the Hawkeyes worldwide. To receive daily news from the Iowa Hawkeyes, sign up HERE.
By DARREN MILLER
hawkeyesports.com
IOWA CITY, Iowa — The University of Iowa 60-meter hurdle record board is top-heavy with pupils groomed by Iowa director of track and field Joey Woody.
 
Aaron Mallett set the school mark with a time of 7.64 seconds in 2017. Jordan Mullen was the previous record-holder at 7.70 in 2013, the same year Ethan Holmes was clocked in 7.82. While Mallett established Iowa's record a year ago, then sophomore Chris Douglas tied Holmes for third on the Hawkeye all-time leaderboard.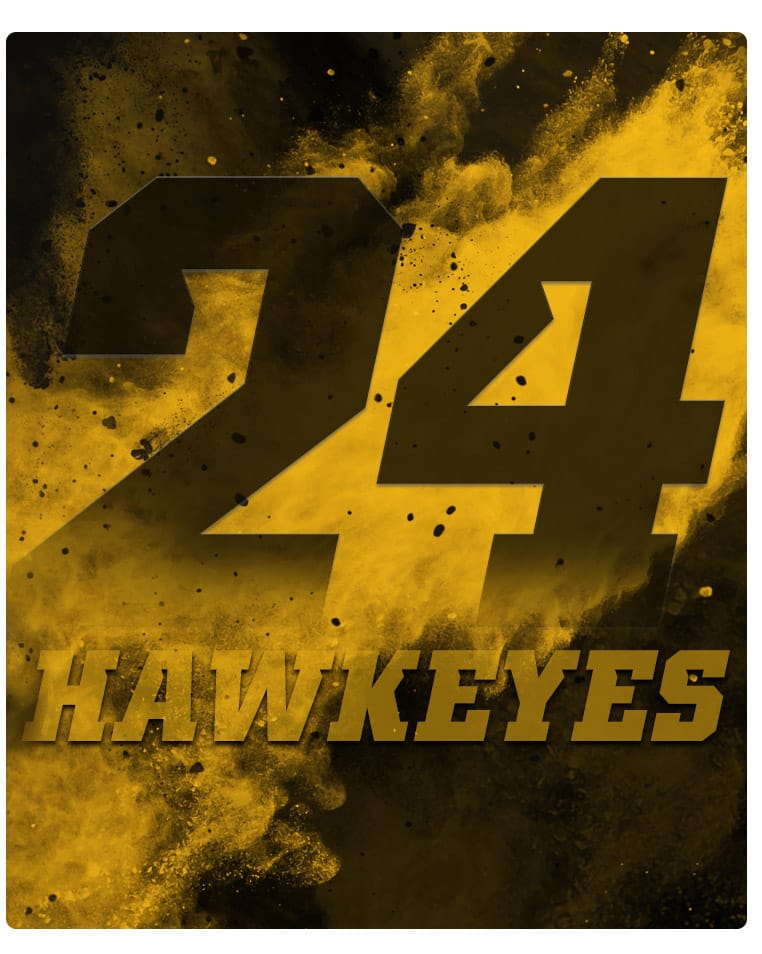 The previous-best time for Douglas of 7.82 occurred at the 2017 Larry Wieczorek Invitational. He shaved .02 seconds off that Jan. 20 at the second annual Larry Wieczorek Invitational to place second in the event and move into sole possession of third in school history.
 
"It was one of the selling points for me coming to Iowa, knowing coach Woody had competed at a high level in the 400 hurdles," Douglas said. "Coming in, (the 400 hurdles) was my stronger event, (having run) the 300 hurdles in high school. Knowing my coach ran 47.9 in the 400 hurdles — it was comforting knowing he was experienced in the event I was going to be training with versus some of the other schools I looked at."
 
Douglas prepped at Deerfield (Illinois) High School where he won an individual Class 3A state championship in the 300 intermediate hurdles as a senior in 37.45 seconds. He also placed fourth in the 110 high hurdles (14.61). As a high school junior, Douglas qualified for state in both the 110 and 300 hurdles, but did not place.
 
Douglas stands 6-foot-4 and that size was one of the first things that attracted Woody.
 
"He is tall and in the high hurdles it's beneficial to be tall and be able to maneuver over the change of height from high school (39 inches to 42)," Woody said. "We knew he was a great student and he was coming here to do well academically, too. Those are great qualities."
 
Woody refers to Douglas as a student of the event. In high school, Douglas specialized in track and field and in the offseason, he worked with a personal trainer.
 
"The biggest thing is that I started lifting in the offseason between my junior and senior year (of high school)," Douglas said. "I put on 15 pounds and the strength I gained from lifting had a big impact on my performance. I was a lot faster on the track."
 
Douglas was born in Australia and lived there a couple years before moving to the United States. The timing of his high school graduation in 2015 also appealed to Woody, because that meant Douglas could spend two seasons as Mallett's understudy. Mallett won five Big Ten hurdle titles and was a five-time All-American, three times during the indoor season, where he placed third in 2016.
 
"Aaron has been a great mentor and has helped me reach a level I don't think I could have reached if I had not had a leader like him in front of me," Douglas said. "He is a big part of my success over the past few years."
 
It also validates Woody's recruiting blueprint: Douglas matured under Mallett just like current freshmen like Josh Braverman and Anthony Williams are developing under Douglas, who is now a junior.
 
Douglas put his biggest meet on hold last year, bypassing the NCAA West Preliminary Round in favor of an internship with Google. Therefore, while the Hawkeyes were competing in Austin, Texas, Douglas was putting his computer science major to use in Mountain View, California, about 45 minutes south of San Francisco.
 
He qualified for nationals by running 14.23 in a 110 hurdle preliminary at the 2017 Big Ten Conference Championships. For the season, Douglas had the 10th-fastest time in the Big Ten in the 400 hurdles (51.98) and 12th-fastest time in the 110 hurdles.
 
Because it was his first year with the Google internship, Douglas needed to report prior to a May 22 start date. The NCAA Preliminary meet ran from May 25-27.
 
"This year I will start whenever track is over," Douglas said.
 
It wouldn't surprise many if Douglas's junior season extends from June 6-9 at the NCAA Championships. However, there are many races — indoor and out — before that.
 
"The best part is he is not just a high-hurdler, he can do the 400 hurdles and has been a national qualifier in both events," Woody said. "I'm excited about what he has been doing this fall and he is setting himself up for having a great indoor season and contribute to our team success."
 
Douglas will compete in his final home indoor meet of the season Jan. 27 at the Black and Gold Premier. Field events begin at noon and running events begin at 2 p.m. (CT) in the University of Iowa Recreation Building.