Hawkeye Fan Shop — A Black & Gold Store | Fight For Iowa | 24 Hawkeyes to Watch 2017-18 | Hawk Talk Monthly — February 2018 – http://catalog.e-digitaleditions.com/i/935355-february-2018 | Big Ten Championships Meet Notes (PDF)
THE SCENE 
The University of Iowa women's swimming and diving team heads to Columbus, Ohio, for the 2018 Big Ten Championships from Feb. 14-17. Racing begins at 6:30 p.m. (CT) on Wednesday at the McCorkle Aquatic Pavilion. Prelims will begin at 11 a.m. Thursday, and finals begin at 6:30 p.m. each day.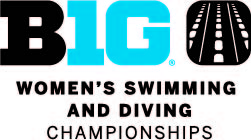 FOLLOW THE HAWKEYES
For an inside look at the Iowa swimming and diving program and access to exclusive coverage, "like" Iowa Swimming and Diving on Facebook and follow @IowaSwimDive on Twitter and @hawkeyeswimdive on Instagram.
LIVE RESULTS/WATCH
Fans can follow the 2018 Big Ten Championship action by visiting the live stats link on the swimming and diving schedule page on hawkeyesports.com. The action will also be streamed on BTN Plus. 
THE OUTCOME
The Iowa women have posted five dual victories heading into the championship portion of the season. The Hawkeyes locked wins against Michigan State, Northern Iowa, Iowa State, Illinois, and Western Illinois. 
LAST TIME OUT
The Hawkeyes closed out the dual portion of their schedule, sweeping Western Illinois on Feb. 2 at the Campus Recreation and Wellness Center. The Iowa women finished ahead of the Leathernecks, 128-65.
SCHEDULE OF EVENTS
Wed., Feb. 14 – Finals – 6:30 p.m. (CT)
200-Medley Relay
800-Free Relay
Thurs., Feb. 15 – Prelims – 11 a.m. (CT)
500 Free
200 IM
50 Free
1-Meter Diving
Finals – 6:30 p.m. (CT)
500 Free
200 IM
50 Free
1-Meter Diving
400-Medley Relay
Friday, Feb. 16 – Prelims – 11 a.m. (CT)
100 Fly
400 IM
200 Free
100 Breast
100 Back
Finals – 6:30 p.m. (CT)
100 Fly
400 IM
200 Free
100 Breast
100 Back
3-Meter Diving
200-Free Relay
Sat., Feb. 17 – Prelims – 11 a.m. (CT)
200 Back
100 Free
200 Breast
200 Fly
Finals – 6:30 p.m. (CT)
1,650 Free
200 Fly
Platform Diving
400-Free Relay
IOWA'S NCAA STANDARDS
Women
Hannah Burvill — 100 free (49.10), 200 free (1:45.82), 500 free (4:44.40), 100 back (53.93)
Jo Jekel — 100 back (54.41)
Meghan Lavelle — 100 back (54.43), 200 back (1:57.90)
Shea Hoyt — 100 breast (1:02.37)
Kelsey Drake — 100 fly (53.82), 200 fly (1:59.45), 200 IM (2:01.12)
Mekenna Scheitlin — 100 fly (54.48)
IOWA'S NCAA ZONE DIVING STANDARDS
Women
Jayah Mathews – 1-meter (296.40), 3-meter (315.60)
Thelma Strandberg – 1-meter (293.95), Platform (248.20)
Jacintha Thomas – 1-meter (307.60), 3-meter (304.00)
Morgan Rafferty – 1-meter (288.70)
2017 BIG TEN CHAMPIONSHIPS RECAP 
The Hawkeyes finished 11th in the team race with 357 points in 2017. Michigan claimed the team title with 1,287, while Indiana and Wisconsin finished second and third, respectively. The Iowa women broke four school records in the 200 breast, 400-free relay, 400-medley relay, and the 200-medley relay throughout the week. 
LEADING THE HAWKEYES
Sophomore Hannah Burvill leads the Hawkeyes this season with nine individual wins. Burvill also broke a school record in the 100 free with a NCAA "B" qualifying time of 49.10.
SETTING THE STANDARDS
Against Michigan State and Northern Iowa, Jacintha Thomas won the 1-meter with a career-best score of 307.60 — the seventh-best score in school history, while Jayah Mathews took her first career win off the 3-meter with a 315.00 — a performance that ranks 10th all-time. Both divers posted qualifying standards off both the 1-meter and 3-meter. 
B1G ATHLETES OF THE WEEK
Jacintha Thomas – Big Ten Diver of the Week (Oct. 11, Dec. 13)
Jayah Mathews – Big Ten Freshman of the Week (Nov. 1), Diver of the Week (Feb. 7)
Sarah Schemmel – Big Ten Freshman of the Week (Feb. 7)
Shea Hoyt – Big Ten Swimmer of the Week (Dec. 13)
Kelsey Drake – Big Ten Freshman of the Week (Dec. 13)