Hawkeye Fan Shop — A Black & Gold Store | Fight For Iowa | 24 Hawkeyes to Watch 2017-18 | Hawk Talk Monthly — February 2018
Editor's Note: The following first appeared in the University of Iowa's Hawk Talk Daily, an e-newsletter that offers a daily look at the Iowa Hawkeyes, delivered free each morning to thousands of fans of the Hawkeyes worldwide. To receive daily news from the Iowa Hawkeyes, sign up HERE.
By JAMES ALLAN
hawkeyesports.com
IOWA CITY, Iowa — Every point matters for the University of Iowa women's swimming and diving team this week at the 2018 Big Ten Women's Swimming and Diving Championships.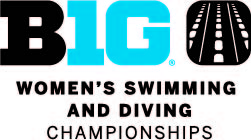 The Hawkeyes begin competition at the McCorkle Aquatic Pavilion in Columbus, Ohio, on Wednesday at 6:30 p.m. (CT).  Preliminaries are set for 11 a.m. on Thursday through Saturday with the evening finals following at 6:30 p.m.
 
"We're looking for a lot of finals swims," said senior backstroker Meghan Lavelle. "We're going to keep track of that and how many swims we get.  We're trying to top what we did last year and beat some teams that we were close to that we got out-touched by.  We're coming back with that fire and are ready to race."
 
The Hawkeyes placed 11th at the 2017 Big Ten Championships with 356 points — 28 points behind Nebraska.  Rutgers and Penn State were within striking distance, finishing in the eighth and ninth spots with 453 and 446 points, respectively.
 
"We have to have a total team effort," said Iowa head coach Marc Long. "We talk about every point counting. That's important to come together and we have earmarked certain places we want to be within the Big Ten as we have a path to move up."
 
The top 24 swimmers in the preliminaries of each event qualify for a second swim and thus team points.  The Hawkeyes have nine student-athletes that are seeded to score in 11 events based off season-best performances. 
 
Four divers — Jacintha Thomas, Jayah Mathews, Morgan Rafferty, and Thelma Strandberg — are among the top 20 in a pair of events and sophomore Hannah Burvill has top-21 times in five individual events. Iowa's 400-free relay ranks seventh in the conference.
 
It's the same song and dance as a season ago for Burvill.  She was in a similar position leading into the championships, but she didn't earn a second swim in any of those events.  
 
"I am excited to step up and prove I can perform at a big meet," said Burvill, who has the ninth-fastest time in the Big Ten in the 200 free (1:45.82). "Last year was a little disappointing because I didn't perform as well as I wanted to. Hopefully this year is going to be completely different."
 
The experience taught Burvill a valuable lesson: there is always another race and another opportunity.
 
"No matter how you're doing, you have to get up and race anyway," she said. "If you had a good swim beforehand, you have to channel that energy again and put it into the next race. Or like last year, if the race didn't go so well, you have to push through to the next one anyway."
 
Long is excited to take the team to Columbus as this is what the team has been training toward since last February.
 
"This is what you work toward," said Long. "I am proud of this group, they have worked hard and they're a close group. They're excited to go to this meet.
 
"It's a challenge. You have to be on your "A" game to move up and get into scoring position that night.  Everyone is trying to have their best effort in that morning swim."