Hawkeye Fan Shop — A Black & Gold Store | Fight For Iowa | Hawk Talk Monthly — March | 24 Hawkeyes to Watch 2017-18 – /sports/2017/7/19/24-hawkeyes-to-watch-2016-17.aspx
Editor's Note: The following first appeared in the University of Iowa's Hawk Talk Daily, an e-newsletter that offers a daily look at the Iowa Hawkeyes, delivered free each morning to thousands of fans of the Hawkeyes worldwide. To receive daily news from the Iowa Hawkeyes, sign up HERE.
By RICK BROWN
hawkeyesports.com
IOWA CITY, Iowa — When Carson Schaake was co-medalist at the Big Ten Men's Golf Championship in 2015 at Victoria National Golf Course in Newburgh, Indiana, his younger brother, Alex, was a witness. Alex soaked up his brother's success, and was motivated by it.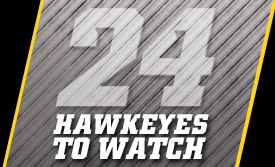 "I've learned so much from him," Alex said.
 
Carson completed his eligibility on the University of Iowa men's golf team last season with Alex alongside as a freshman teammate. Now, Carson is trying to make it in professional golf. And Alex is trying to bring another Big Ten title to the family.
 
"They have a healthy and unique relationship," said Iowa head coach Tyler Stith. "They've been competitive with each other their entire lives, whether it's playing ping pong or golf. Alex has grown out of Carson's shadow. He's his own person, his own player. He's an accomplished player himself. He's on his way to being a great college player as well."
 
Alex heads into his second college season as the reigning 2017 Nebraska Amateur of the Year. Carson won that award in 2014. Alex has won the last two Nebraska Amateur titles, just the eighth player in the tournament's 109-year history to successfully defend his title. Alex was the state's top junior golfer three straight years. He won both the Nebraska Junior and Nebraska Amateur in 2016, the first player to do that since 1996.
 
Coming off a strong fall campaign in 2017, with a pair of top five finishes, including a runner-up spot at the Golfweek Challenge at Cedar Rapids Country Club, Alex is poised for a strong spring campaign.
 
"He wants to win," Stith said of the sophomore from Omaha, Nebraska. "He has won at every single level growing up. The next step for him is to become a winner at the college level. It's just a matter of time. He has to continue to keep putting himself into contention. He's proven he can win. The next step is to prove to himself that he can do it at this level as well."
 
Alex has always played with an aggressive approach. He'd throw caution to the wind and attack any pin, despite the percentages.  Stith looks for a more conservative approach at times this spring.
 
"He feels like he can hit every shot, and he can," Stith said. "But it's knowing when that is worth it and when maybe it's best to play away from a pin, take an easy par and move to the next hole."
Schaake said he'll probably side with the percentages more than he did last season, but "I'll still probably go for more pins than I should. I've completely reinvented my game since last year."
 
It starts off the tee. Instead of hitting his tee shots to fit a hole — a draw one hole, a fade the next — Schaake has gone to one ball flight in an effort to become more consistent. He'll play a fade (left to right).
 
"Playing smart off the tee is one of the biggest things I've learned in college golf," Alex said. "I've also been working on my short game a lot over the winter, and it's really helped me a lot."
 
Schaake's success on the amateur circuit in Nebraska, as well as his solid play as a collegian, shows he has the tools to win at the college level.
 
"He doesn't mind having the pressure," Stith said. "He wants to be in that situation.
That makes him special and gives him the ability to win when he gets in those pressure situations. He thrives on it. He's upset when he's not there. When he's not, he'll work to get himself back into that position.  I think that once he wins, he's going to get a taste for it and win multiple times in college."
 
Thriving under pressure might be the result of Alex watching Carson, and seeing how his older brother responded to the moment. It might be from the competitive give-and-take of a healthy sibling rivalry, and learning from his mistakes.
 
Making birdies has never been a problem for Schaake. Stith said that once he plays with a cleaner scorecard, Alex will be in contention.
 
"My rounds can be two to three shots lower," Alex admitted. "I just need to get there."
 
Going deeper would help the Hawkeyes secure a 10th consecutive NCAA Regional bid.
 
"It's huge," Schaake said. "It's our path to the national championship."