Hawkeye Fan Shop — A Black & Gold Store | Hawk Talk Monthly — March 2018 | 24 Hawkeyes to Watch 2017-18 – /sports/2017/7/19/24-hawkeyes-to-watch-2016-17.aspx
Editor's Note: The following first appeared in the University of Iowa's Hawk Talk Daily, an e-newsletter that offers a daily look at the Iowa Hawkeyes, delivered free each morning to thousands of fans of the Hawkeyes worldwide. To receive daily news from the Iowa Hawkeyes, sign up HERE.
By RICK BROWN
hawkeyesports.com
IOWA CITY, Iowa — Shawn Rennegarbe had game as a high school senior in Addieville, Illinois. That was hardly a secret. University of Iowa women's golf coach Megan Menzel was one of many who tried to recruit her.
 
"She was gone pretty quickly," Menzel said.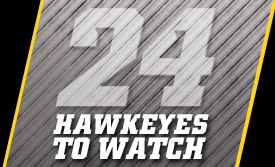 National power Arkansas won the recruiting derby for Rennegarbe, who played on state championship golf and basketball teams at Nashville Community High School.
Rennegarbe was redshirted at Arkansas in 2014-15 after back and wrist injuries kept her off the course.  A year later, she decided to transfer and started to look for a good fit.
 
"(I wanted to go) somewhere closer to my home in southern Illinois," Rennegarbe said. "It was hard to find my degree."
 
Shawn majors in biomedical engineering, and wants to pursue the dentistry field. Iowa had her major. And Menzel added a talented player to her roster.
 
"I got excited when I heard Shawn was interested in transferring," Menzel said. "We had a strong interest in her when she was a junior player, and she had a lot of success. We recruited her as an All-American. Now let's see if we can get this thing turned around and get some good things going on."
 
Rennegarbe has already been voted a team captain by her teammates.
 
"She came in right away and gained respect from her peers," Menzel said. "We want it to be a great experience for her."
 
Rennegarbe's length off the tee is an obvious strength. That, and positive body language on the golf course, is what had recruiters so excited a few years back. Now, after two seasons on the sidelines and a swing change, Rennegarbe is looking to find her groove again.
 
"I started with a new swing coach two years ago," Rennegarbe said. "It was a big overhaul.  Any small change takes awhile. I'm now at a point where I don't have to worry about it because I know I'm on the right path."
 
Rennegarbe still has the power off the tee that caught coaches' eyes. Menzel said she's one of the longest hitters she has ever coached.
 
'"I can hit it really far," Rennegarbe said. "I'm just trying to hit it straight. I know I have the power to get it out there. I'm fine tuning, working on my short game and all that stuff."
 
Menzel said that Rennegarbe's organization skills are off the charts.
 
"She's an incredibly organized person and very driven, an outstanding student-athlete," Menzel said. "She performs at a high level, and raises the bar for everyone when she's around. I appreciate what she brings to the table every day."
 
Menzel has actually had to work to get Rennegarbe to "chill out a little bit. She knows that about herself. Relax and let the greatness come out."
 
Iowa represents a second chance on the golf course. A mulligan, if you will.
 
"Hopefully we can bring back some of those good feelings of leading a team, and that will continue to help feed her psyche a little bit and encourage her to do great things," Menzel said.
 
As she watches Rennegarbe plot her way around a golf course, Menzel sees a player who sometimes gets in her own way in the pursuit of success.
 
"If we can continue to boost up her confidence a little bit the sky's the limit," Menzel said. "She does all the things right, every single day."
 
Rennegarbe feels she's close to side-stepping herself on the golf course.
 
"I know I've put the work in, and I've done it before," Shawn said. "I know it's in me. I'm still the person who can shoot under par or at par every time."
 
Anyone who plays golf knows it's not a sport for quick fixes. Patience and trusting the process are important parts of the puzzle.
 
"I'm excited about it," Shawn said. "I'm enjoying that, and trusting that the work I've put in is going to shine through very soon."