Hawkeye Fan Shop — A Black & Gold Store | 24 Hawkeyes to Watch 2017-18 | Hawk Talk Monthly — March 2018
Editor's Note: The following first appeared in the University of Iowa's Hawk Talk Daily, an e-newsletter that offers a daily look at the Iowa Hawkeyes, delivered free each morning to thousands of fans of the Hawkeyes worldwide. To receive daily news from the Iowa Hawkeyes, sign up HERE.
By JACK ROSSI
hawkeyesports.com
IOWA CITY, Iowa — It was one of the busiest weekends for the University of Iowa track and field team with athletes in three different meets in three different times zones, but it was the distance athletes in Palo Alto, California, who took the next big step.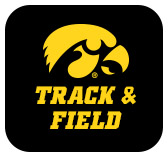 Iowa competed in three meets – the Florida Relays, Texas Relays, and Stanford Invitational. While the group in Florida was garnering most attention, it was the group in California with multiple all-time and national qualifying marks.
 
Junior Andrea Shine and sophomore Nathan Mylenek set massive personal bests on their way to leading the Big Ten and entering Iowa's all-time top-10 in the 10,000 meters and 3,000-meter steeplechase, respectively. Mylenek's 8:48.66 catapulted himself into second in school history behind former Hawkeye All-American Deacon Jones' 8:47.40, while Shine ran the sixth-fastest 10,000-meter time in school history at 33:50.25.
 
Mylenek's time ranks 10th in the country and Shine is 15th.
 
"It's always important to put up big performances early in the season because it shows you are heading in the right direction and setting yourself up for the postseason," said Iowa director of track and field Joey Woody. "We talked at the beginning of the outdoor season. The more we focus on getting our numbers up in the national qualifiers, the better we will do at NCAAs and Big Tens."
 
Mylenek had hinted at his progression dating back to the cross-country season, showing his fitness in the longer distances and then getting his speed up to par during the indoor season.
 
"There is a huge learning curve in the steeplechase," said Iowa distance coach Randy Hasenbank. "He has improved much faster than most guys. He is athletic, explosive, and dedicated. The fact that he improved that much was not much of a surprise."
 
The same can be said for Shine, who was named All-Region during the cross country season and set personal bests during all three of her regular season races during the indoor season – mile (4:55.55), 3,000-meters (9:39.02), and 5,000-meters (16:21.53).
 
"Her event is the 10K, so we were seeing huge chunks of time being lopped off of races that aren't her specialty," Hasenbank said. "I had a good feeling and she was confident that she could run a fast 10K time."
 
Mylenek and Shine are already projected to qualify for the NCAA West Preliminary in Sacramento, California, in May, which gives them more than two months to train and possibly qualify for another event as well.
 
"Andie will have to run fast (to qualify in the 5,000-meters), but she is trending in that direction and I can see her qualifying in that event," Hasenbank said. "Nate will run a 1,500-meter at some point and he should be close to qualifying."
 
Hasenbank has spearheaded the resurrection of Iowa's distance program with his ability to develop athletes, which is something that attracted Woody when searching for a new distance coach.
 
"One of the reasons I hired him was his great track record of developing athletes," Woody said. "He is a steeplechase guy himself."
 
The Hawkeyes next compete in the Battle on the Bayou, hosted by LSU, on April 8.