Hawkeye Fan Shop — A Black & Gold Store | 24 Hawkeyes to Watch 2017-18 | Hawk Talk Monthly — April 2018
Editor's Note: The following first appeared in the University of Iowa's Hawk Talk Daily, an e-newsletter that offers a daily look at the Iowa Hawkeyes, delivered free each morning to thousands of fans of the Hawkeyes worldwide. To receive daily news from the Iowa Hawkeyes, sign up HERE.
By RICK BROWN
hawkeyesports.com
IOWA CITY, Iowa — Tom Chapman, Sr., led the University of Iowa's men's basketball team in scoring at 16.8 points a game during the 1942-43 season. Tom Chapman, Jr., led the Hawkeyes in scoring during the 1966-67 season, matching his dad's 16.8-point average.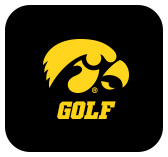 Like father, like son. And Thursday night, this storyline adds another chapter. Chapman, Sr., will follow his son into the Iowa Golf Hall of Fame. Chapman, Sr., will be one of five inductees honored in a Iowa Golf Association-sponsored ceremony at Glen Oaks Country Club in West Des Moines.  Chapman, Jr., was inducted in 2008.
Both Chapmans also lettered in golf at Iowa and were team captains.
 
They will be the first father-son combination among the Hall's 79 members.  Those members include former Hawkeye golfers Gene Elliott, John Jacobs, John Liechty, Lonnie Nielsen, Jack Rule, Dave Rummells, Brad Schuchat, and J.D. Turner.
 
Chapman, Sr., a star athlete at Storm Lake High School, came to Iowa hoping to play football, too. But shoulder and ankle injuries ended the gridiron career of the all-state quarterback.
 
He started three seasons for the Hawkeyes in basketball, playing for Rollie Williams in 1940-41 and 1941-42 and Pops Harrison in 1942-43. Chapman's senior season would be abbreviated because of World War II.
 
Just 12 games into that season, he got called to service. He reported to training in the Army Air Corps six days after playing his final game at Northwestern on Feb. 13, 1943.
 
Chapman was a fighter pilot in the Army Air Corps, flying the Burma campaign in Southeast Asia. During idle time, members of the platoon would play cards. That platoon included a guy named Lee Marvin, who would go on to become a movie star.
After getting out of the service in 1946, Chapman returned to Iowa City and joined the golf team. He lettered in his one and only season.
 
Chapman landed in Fort Dodge and worked as a sales representative for Dwight Huff Sporting Goods Company, selling to Big Ten schools.
 
After putting his golf game on the shelf because of duty to his country, Chapman dusted off his clubs and made up for lost time. He dominated amateur golf in Northwest and North Central Iowa, winning a long list of tournaments and earning a reputation as one of the longest hitters in the state.
 
He never captured an Iowa Amateur, losing an epic semifinal match against fellow Hawkeye John Jacobs in the 1948 semifinals at Brooks in Okoboji. The championship was contested in match play until changing to a medal play format in 1960. The Des Moines Register's Bert McGrane, who witnessed Jacobs's 1-up victory over Chapman in that 1948 semifinal, called it one of the greatest matches in Iowa Amateur history.
 
Chapman, Jr., won a pair of Iowa Amateur titles in 1967 and 1972 and a total of 13 major championships in the state. That included four victories in the Fort Dodge Amateur, one more than his dad won. When Chapman, Jr., won his first Fort Dodge Amateur title, in 1970, he edged his dad by a shot. The two did team up to win a State Father-Son Championship.
 
Chapman, Sr., once shot a 67 at the University of Iowa's Finkbine Golf Course at 67 years of age in 1988, when he was in Iowa City getting cancer treatment at University Hospitals. Chapman, Sr., passed away on Feb. 11, 1989.  Tom Chapman, Jr., passed away in 2007.