Hawkeye Fan Shop — A Black & Gold Store | 24 Hawkeyes to Watch 2017-18 | Hawk Talk Monthly — April 2018
Editor's Note: The following first appeared in the University of Iowa's Hawk Talk Daily, an e-newsletter that offers a daily look at the Iowa Hawkeyes, delivered free each morning to thousands of fans of the Hawkeyes worldwide. To receive daily news from the Iowa Hawkeyes, sign up HERE.
By JACK ROSSI
hawkeyesports.com
IOWA CITY, Iowa — In its final tournament of the spring season, the University of Iowa volleyball team will have one final weekend to compete against other teams before heading into offseason training.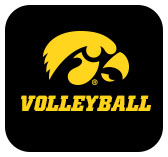 The Hawkeyes host their final and second-straight home tournament Saturday, welcoming Northern Iowa and Dordt College to Iowa City.  Dordt is led by a former Iowa assistant coach, Chad Hanson.
 
"Chad has grown a great program," said Iowa head coach Bond Shymansky. "They wanted a tough spring experience so we found a way to have them visit."
 
When Iowa meets Dortd and Northern Iowa, the tournament will be a culmination of six weeks of growth for the team. The spring schedule has tested everybody.
 
"It could be the position they play, the techniques, but most of it is the chemistry that you build within the team," Shymansky said of developing athletes. "It is happening in the way they carry themselves, the way they communicate, what their intensity level is, and the drive they have within our mission of true mental toughness."
 
But with only seven players active and ready to play, there has been no room to be passive.
 
"We have a limited roster this spring," Shymansky said. "Because of that there is no place to hide, there is nowhere to rest, there is nowhere to take a day or play off and, in the long run, that will be very beneficial to our team."
 
Following spring volleyball, the team takes a short break to close the semester strong academically and then come back to Iowa City for offseason training.
 
"It's a great time of them working together independently from our coaching staff and strengthening their relationships and experience in Iowa City," Shymansky said. "It's the time where they get to think, feel, and act like a normal student a lot more than they do during the spring and fall. It should be a rewarding summer for them."
 
During summer training, the Hawkeyes are introduced to their newest teammates as they begin to build a team chemistry that will fight for every point in the Big Ten.
"We will spend a lot of time in the preseason working on team building and opening up that discovery process of figuring out what is it that each of us brings to the team and how can the team count on that," Shymansky said.
 
Saturday's competition is set to begin at 9 a.m. (CT) inside Carver-Hawkeye Arena. Admission to the event is free.