IOWA CITY, Iowa – – Student-athletes and staff from the majority of the University of Iowa's 24 sports teams will take part in the 20th annual ISAAC Hawkeye Day of Caring Sunday, April 22.
Hawkeye Day of Caring is coordinated by the Iowa Student Athlete Advisory Committee (ISAAC) and supported by MidAmerican Energy. The goal is to increase the level of community service among UI teams and student-athletes.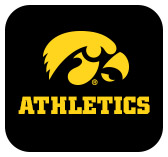 Community engagement is one pillar in the Student-Athlete Academic Services Hawkeye Life Program, an all-encompassing life skills and leadership development model which seeks to enhance the UI student-athlete experience. The goal is to encourage student-athletes to get involved, to be good citizens, and to take an active role in their personal and professional development.  The Iowa Athletics Department thanks MidAmerican Energy for its endowment of the community engagement pillar.
Hawkeye student-athletes are assigned community agencies and organizations to complete various volunteer tasks Sunday morning from 9:30 to 11:30 a.m. ISAAC is collaborating with the United Way of Johnson & Washington County to organize spring-cleaning projects at various sites in the Iowa City and Coralville area. This year's agencies and organizations participating include Iowa City Public Works, Bur Oak Land Trust, Downtown City Gardens, Johnson County Grow, Good Shepard, Pathways, Ronald McDonald House, Shelter House, Handicare, HACAP, and the Neighborhood Centers of Johnson County.
Following the Sunday morning Day of Caring activities, all participants are invited for pizza at the Hawkeye Tennis & Recreation Center (HTRC) and to attend the women's tennis match versus Wisconsin at noon as the Hawkeyes close the home season.