Fight For Iowa | Hawk Talk Monthly — May 2018 | Hawkeye Fan Shop — A Black & Gold Shop
Editor's Note: The following first appeared in the University of Iowa's Hawk Talk Daily, an e-newsletter that offers a daily look at the Iowa Hawkeyes, delivered free each morning to thousands of fans of the Hawkeyes worldwide. To receive daily news from the Iowa Hawkeyes, sign up HERE.
By RICK BROWN
hawkeyesports.com
IOWA CITY, Iowa — The University of Iowa men's golf team kept one streak alive at last weekend's Big Ten Championships. And because they did, there's a chance that a second streak won't die.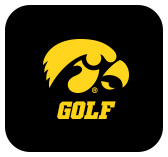 Head coach Tyler Stith's team finished third at the Baltimore Country Club. The Hawkeyes have now finished fourth or better in the last six Big Ten Championships. That performance, as well as a strong showing earlier last month in both its own Hawkeye Invitational and the Kepler Intercollegiate in Columbus, Ohio, has put Iowa on the NCAA bubble.
 
NCAA bids will be announced starting at 5:30 p.m. (CT) today. The Hawkeyes have received a bid in each of the last nine seasons.
 
"We're right on the bubble," Stith said. "It's certainly going to be close. We've shown what we're capable of the last three weeks. Unfortunately, we started slow. We had to dig ourselves out of a hole. We'll just have to wait and see if our resume is good enough to get us in."
 
Sophomore Alex Schaake is a solid bet to make the NCAA field as an individual if Iowa doesn't make it as a team.
 
Schaake finished third in the Southern Intercollegiate in Athens, Georgia, was 12th at the Schenkel Invitational in Statesboro, Georgia, and tied for 31st at the Duck Invitational in Eugene, Oregon. Unfortunately, the Hawkeyes didn't finish better than eighth in any of those three events.
 
Iowa turned its season around starting at the Hawkeye Invitational. Stith's team finished second, a shot behind Iowa State. Schaake was second in the medalist race and Alex Moorman, playing individually, was third.
 
"We qualified that week and he (Moorman) got beat out," Stith said. "I told him, I want you to go out and win the tournament, I don't care if you're playing as an individual or on the team. He almost did."
 
Schaake shot 68-72 in the Hawkeye Invitational, shortened from 54 holes to 36 because of horrible weather conditions. Moorman shot 68-73.
 
Iowa then finished sixth at the Kepler and junior Matthew Walker tied for sixth with rounds of 70-69-75.  Schaake tied for 21st and Moorman tied for 34th after a closing 71 that included a back-nine bogey-free 30.
"That 30 on the back nine is as good as I've seen at the Scarlet Course," Stith said. "It was really impressive."
 
Then came the third-place finish at the Big Ten Championships to end the regular season. Sophomore Benton Weinberg, who is from Potomac, Maryland, had his best career finish in his return to his home state. He tied for eighth after shooting 72-69-72.
 
"I was happy for Benton," Stith said. "For him to go home and compete for a Big Ten Championship in front of his family and friends and have his best career performance, I thought he handled the circumstances well."
 
Moorman also had a strong finish, tying for 15th and shooting a career-low 66 in the second round. Schaake tied for 18th and Walker and Sam Meuret, the lone senior, tied for 31st.
 
"The first two rounds Schaake's score didn't even count and we were in third place," Stith said. "That says a lot. That wouldn't have happened a month ago. He carried us most of the spring season when the team wasn't playing well. To see him not play his best and have the other guys step up was awesome.
 
"That's what we've been working toward all year. A complete group effort, one through five. Everyone stepped up when they needed to. It was just a solid performance."
 
Whether it got the Hawkeyes over the NCAA hump will be determined today. But Stith is excited about the future of his program moving forward.
 
Meuret is the only player leaving the program. Weinberg, Schaake, and Moorman have two seasons of eligibility remaining, and Walker one. Sophomore Ryoto Furuya spent some time in the varsity rotation, as did freshman Jake Rowe. Stith will also add two signees in Tyler Bussert from Port Byron, Illinois, and Leal Montero from Seville, Spain.
 
"The two guys coming in certainly have a lot of talent and desire to play," Stith said. "But they're going to have their work cut out for them. I hope they push the guys already here."