Hawkeye Fan Shop — A Black & Gold Store | Hawk Talk Monthly — May 2018 | 24 Hawkeyes to Watch 2017-18
Editor's Note: The following first appeared in the University of Iowa's Hawk Talk Daily, an e-newsletter that offers a daily look at the Iowa Hawkeyes, delivered free each morning to thousands of fans of the Hawkeyes worldwide. To receive daily news from the Iowa Hawkeyes, sign up HERE.
By JACK ROSSI
hawkeyesports.com
IOWA CITY, Iowa — University of Iowa track and field senior Jahisha Thomas is used to grabbing the spotlight while competing on the runway as the Hawkeyes' best jumper, but during her final year, the two-time Big Ten champion is grabbing the spotlight elsewhere — in the newsroom.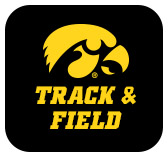 Like a lot of students, Thomas entered her senior unsure of what her future held. Her financial accounting major wasn't working out and she felt lost when it came to the analytical side of marketing, but a walk through the Papa John Business Building and a stroke of luck helped her pave another path.
 
"For some reason something in my head said 'Look to the right,'" Thomas said. "I turned and there was a poster that said 'Reporters Wanted' from Daily Iowan TV. I thought that was perfect."
 
The Daily Iowan is one of the country's largest independent, student-run newspapers which, since 2005, has also produced a daily newscast. Despite not having any background in news or reporting in general, Thomas was in after a talking with the news director.
 
"I emailed that day and the TV news director, Becca Scadden, emailed me back and it started rolling from there," Thomas said. "I started doing (news) packages, going to meetings, and it evolved over time. I think the defining moment was the last day of the fall term."
 
In the group's final weekly meeting, the producer asked for a reporter for a news segment and Thomas couldn't raise her hand quick enough.
 
"I had not been on live TV yet," Thomas said. "I knew this was my first opportunity and I have to nail it. I memorized my entire part and I didn't even look at the prompter."
 
During the second semester, Thomas found herself on weekly newscasts reporting on the weather and other news packages.
 
From reporting live on stories about the upcoming royal wedding to the week's weather, Thomas made the most of her newfound talent. But that doesn't mean she left track and field behind. She even had time to win two Big Ten Indoor Championships in February.
 
"I think my two favorite things were the royal wedding package I just did and going out on the street for the weather segments," Thomas said. "I like that interaction with people and I like to write my own scripts and have a whole section of the show to myself."
 
As the only student-athlete inside the newsroom, Thomas works with the same people who report on track and field and like most student-athletes, she is biased when it comes to coverage.
 
"It's cool, but personally they should be talking more about track because we are killing it out there," Thomas joked. "They did mention how the guys won the Drake Relays."
 
Thomas competes in her final Big Ten Outdoor Championships this weekend in Bloomington, Indiana. While her collegiate track and field career slowly comes to an end, she may have found something else to win awards in after college.
 
"My whole dream is to be the host on a show that says 'good morning New York' or 'good morning America'," she said. "That's what I strive to be."