Hawkeye Fan Shop — A Black & Gold Store | 24 Hawkeyes to Watch 2017-18
Editor's Note: The following first appeared in the University of Iowa's Hawk Talk Daily, an e-newsletter that offers a daily look at the Iowa Hawkeyes, delivered free each morning to thousands of fans of the Hawkeyes worldwide. To receive daily news from the Iowa Hawkeyes, sign up HERE.
By SETH GOODMAN
hawkeyesports.com
IOWA CITY, Iowa — While their careers at the University of Iowa have been different, a common thread for University of Iowa women's golf seniors Jessica Ip, Morgan Kukla, Elisa Suarez, and Anna Kim is that they are forever grateful to be Hawkeyes.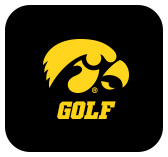 As a class, they have set an example in the classroom and on the golf course.
 
"Our senior class has represented our program with a great amount of class for four years," said Iowa head coach Megan Menzel. "They have exceled in the classroom and have helped us continue to work on a positive and strong team culture."
 
During their time at Iowa, they have had the opportunity to travel and play on some of the best courses in the country. They have also had the chance to call the state-of-the-art Hoak Family Golf Complex their home.
 
"I will miss being together with the team for workouts, practices, and competitions," said Kim. "I had a great opportunity to work toward a common goal every day for the past four years with dedicated and disciplined individuals."
 
Ip has cemented her name in the women's golf record book at Iowa. In her sophomore season she carded a 54-hole score of 212 (-4) — second-best 54-hole score in program history — to win the Diane Thomason Invitational.
 
"Winning the home tournament my sophomore year was my favorite moment on the course," said Ip. "It was fun to win it at Finkbine in front of our home crowd."
 
As Hawkeyes, they have experienced what it means to be a part of a larger community.
 
"Off the course, it's always great to run into Hawkeye fans all over the country," Ip said.
 
"My favorite moment off the course was during football when I got to storm the field with a few of my teammates and my dad," said Kukla. "Those memories are priceless."
 
Over their four years at Iowa, the senior class had an opportunity to be mentored by coaches who cared about them as golfers and as individuals. "They shed light on a different way to approach life," Ip said. "They exude positivity in every aspect of their lives and it is admirable."
 
"The coaching staff challenged and assisted me in being the best version of myself," Kim said. "They set a great example every day with their positivity and energy."
 
Now, they are leaving Iowa City proud of their time representing the University of Iowa.
 
"I love wearing the Tigerhawk," Kukla said. "It was an honor and I wouldn't change it for the world."
 
"I am grateful for being a part of the Hawkeye community," said Elisa Suarez. "Forever a Hawkeye, that's what they say, right?"
 
Each senior has had a different career at Iowa, but they are all leaving proud to be Hawkeyes.
 
"They have been strong teammates," Menzel said. "They will be missed."