Hawkeye Fan Shop — A Black & Gold Store | 24 Hawkeyes to Watch – 2017-18 | Hawk Talk Monthly — May 2018 | Sunday Photo Gallery
Editor's Note: The following first appeared in the University of Iowa's Hawk Talk Daily, an e-newsletter that offers a daily look at the Iowa Hawkeyes, delivered free each morning to thousands of fans of the Hawkeyes worldwide. To receive daily news from the Iowa Hawkeyes, sign up HERE.
By JACK ROSSI
hawkeyesports.com
BLOOMINGTON, Ind. — If this weekend proved anything it was that the University of Iowa women's throwing group is elite thanks to sophomore Laulauga Tausaga.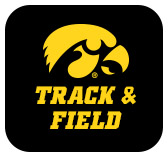 Tausaga became the sixth person in Big Ten history to win the discus and shot put competitions at the same meet and first to win back-to-back titles since 2009-10.
 
"This was a successful weekend, not only individually, but for our women's throwing program in general," Tausaga said. "We've come a long way."
 
Tausaga was talking about sophomore Nia Britt and freshman Konstadina Spanoudakis. Britt threw two personal bests in the shot put and is now second in school history in the event. She finished fourth overall.
 
Spanoudakis scored in her first Big Ten Outdoor Championship. The freshman from Greece threw 172-feet, 3-inches to place seventh.
 
"(I'm glad) I wasn't the only person on the podium and we also grew so much (this year)," Tausaga said. "It's an individual sport at the end of the day, but when you can bring somebody along with you, that's amazing. To have Nia and Konstadina with me on the podium was one of the best things ever."
 
When it comes to some of that rubbing off on her teammates, Tausaga fully believes her teammates are more than capable.
 
"I feel like if it can be done by me then it can be done by them, too," she said. "When you can hype up a teammate, it makes it so much easier to enjoy it and that's when you have your best throws. Cheering them on and making them confident in themselves because you know it's there they just don't know it yet."
 
Tausaga's best event may be the discus, but she no longer considers herself a discus thrower.
 
"(I considered myself a thrower) after I had a horrible meet in the discus at Drake," Tausaga said. "I decided that I wasn't going to go home with two losses. I pushed through in shot and from that moment I thought that I can't focus on one event when you can be good at two. That is when my whole mindset changed."
 
With check marks on the discus and the shot put, the next event for Tausaga is the hammer throw.
 
"I did a little bit of hammer, but wanted to get shot going this year," Tausaga said. "Now that I've established a groove with the shot put maybe now we can get into the hammer throw because Leah (Colbert) is leaving. We need to make sure we get team points in that."
 
The Hawkeyes will look to keep the team points coming after finishing with their highest point total and finish in program history with 96 points and a third place finish. Tausaga, alone, contributed 20 points.
 
"It's amazing," Tausaga said. "I came in with the mindset that I am not going to leave the university without making my mark and every track meet I go to I try to make my mark. To be a part of this team and make history is amazing."
 
When it comes to making history, Tausaga doesn't plan on stopping any time soon.
"I'm going to keep doing this until someone better comes along, so we'll see," Tausaga said.