Hawkeye Fan Shop — A Black & Gold Store | Hawk Talk Monthly — May 2018 | 24 Hawkeyes to Watch 2017-18
Editor's Note: The following first appeared in the University of Iowa's Hawk Talk Daily, an e-newsletter that offers a daily look at the Iowa Hawkeyes, delivered free each morning to thousands of fans of the Hawkeyes worldwide. To receive daily news from the Iowa Hawkeyes, sign up HERE.
By RICK BROWN
hawkeyesports.com
IOWA CITY, Iowa — Steven Ihm is a transplanted Texan now.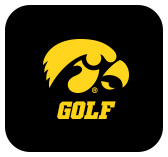 "I'm still an Iowa boy at heart," said Ihm, 25, a Peosta native and former University of Iowa men's golf standout.  "But I really do enjoy Texas. For my professional career, it just makes sense to be down here."
 
His career is professional golf. Ihm and his wife, Caitlin, moved to Plano in December. Now, the first three-time All-Big Ten honoree in Iowa men's golf history hopes to make a name for himself on the PGA Tour.
 
Ihm qualified for this week's AT&T Byron Nelson on Monday, surviving a playoff. It will be the fourth career PGA Tour start for Ihm, who currently has conditional status on the Web.com Tour and also had 27 starts in two seasons on the PGA Tour Latinoamerica. Ihm tees off at 9 a.m. (CT) in Thursday's opening round.
 
Ihm played at the John Deere Classic on sponsor's exemptions in 2013 and 2014. He also got into the 2016 Deere through Monday qualifying, surviving another playoff. His best finish at TPC Deere Run was a tie for 27th in 2014. He feels the experience he gained in those events will be a positive starting Thursday.
 
"You have to feel like you belong," Ihm said. "That's the key to having success out there. If you start to put the PGA Tour up on this huge pedestal… this is amazing, and these guys are so good… you're just never going to be in the right mindset to compete with them if you're constantly putting them above yourself."
 
Ihm got this week's PGA Tour start by shooting a 5-under-par 67 in Monday's qualifier at Gentle Creek Country Club in Prosper, Texas. There was a four-way playoff for the final two spots. Ihm made quick work of it, hitting a perfect drive and then stuffing a wedge to 2 feet and making the birdie putt.
 
Now it's on to Trinity Forest, a Ben Crenshaw-Bill Coore design in Dallas that is hosting the 50th annual PGA Tour stop for the first time.
 
"I'm getting to play a tournament at a course where guys don't have any experience at," said Ihm, who lives just 20 minutes away. "There's only maybe a handful of guys in the entire field that have played the course. You don't have guys coming in with 10 to 15 years of experience there. Everybody has to learn it in two to three days, which is awesome. Because there's a lot to learn. It's an intricate golf course."
 
Ihm played the course for the first time Tuesday.
 
"There are just spots where you can't hit it," Ihm said. "It's going to be a great test of distance control with your irons all week. I feel that's going to be huge. Then you have to have proper angles into the green to give yourself a bigger landing area. Then it will come down to chipping and putting, which it always does on the PGA Tour."
 
Trinity Forest leaves a player plenty of short-game options.
 
"You can get very creative with your chipping and putting," Ihm said. "You can putt it from around almost every single green if you feel comfortable doing it. Or you can play a high shot and risk it or play a bump-and-run. There's going to be a lot of creativity this week. It will be interesting to see how a lot of guys handle it."
 
One of the advantages of his move to Texas is that Ihm has unlimited access to TPC Craig Ranch, a PGA Tour-caliber facility less than half an hour from his home. Travel, and direct flights out of Dallas-Fort Worth to tournament cities, is another plus.
 
"It's life-changing," Ihm said.
 
Ihm, who has the same sponsors supporting him who were there when he turned pro in 2014, said they are giving him the chance to chase his dreams.
 
"I know I have the capability to play at the PGA Tour level and make a living out there consistently," said Ihm, who came just two shots shy of gaining full-time status on the 2018 Web.com Tour at the final stage of qualifying last December. "Right now it's just the game of getting out there."
 
This week is a chance for Ihm to make the most of an exciting opportunity.
 
"I know what it takes, and I know I can play with these guys," said Ihm, who also plans to try and qualify for the John Deere Classic in July. "I'm just going to go out there this week and feel like I belong and play golf the way I know I can. I'm not going to change my mindset or my mood because it's on a bigger stage."