Hawk Talk Monthly — May 2018 | Hawkeye Fan Shop — A Black & Gold Store | 24 Hawkeyes to Watch 2017-18 | I-Club Events Page | Photo Gallery

Editor's Note: The following first appeared in the University of Iowa's Hawk Talk Daily, an e-newsletter that offers a daily look at the Iowa Hawkeyes, delivered free each morning to thousands of fans of the Hawkeyes worldwide. To receive daily news from the Iowa Hawkeyes, sign up HERE.
By JACK ROSSI
hawkeyesports.com
SACRAMENTO, Calif. — After a record-breaking performance at the Big Ten Outdoor Championships, University of Iowa track and field junior Mar'yea Harris is more confident than ever.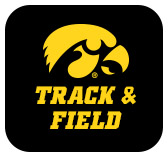 He earned nothing but silver medals in his first two seasons at Iowa, then Harris broke through at the 2018 Big Ten Outdoor Championships with gold in the 1,600-meter relay and 400 meters. Harris' time of 44.98 seconds in the 400 meters broke a 25-year old school record and has him feeling confident heading into the NCAA West Preliminary on May 24-26.
 
"Breaking 45 (seconds) was such a huge accomplishment that I have no option but to be confident," Harris said. "There are only a select few that can run 44 seconds in the NCAA."
 
Eight to be exact.
 
Harris will see four of them today when the NCAA West Regional begins its first of three days at Hornet Stadium. While 48 individuals made the cut for the first two rounds, only 12 will advance out of this region, but that pressure is nothing new for Harris.
 
"This is another opportunity to compete and try to qualify for (the NCAA Final Rounds)," Harris said. "Just like last year and the year before that."
 
This year is not quite like the last two years. Iowa brought one of the largest groups in program history to the NCAA Regionals this season.
 
"It's a big boost to bring the second-most people ever to regionals," Harris said. "You can't ask for much more than that. That shows we are progressing as a team and getting better each year."
 
Iowa has 30 athletes set to compete in 36 events over the next three days, including the men's 1,600-meter relay, which finished third in the country last season with a school-record time of 3:01.91. The Hawkeyes return three of the four legs from last season, but have yet to run their best race.
 
"We came in ranked eighth, but I feel like we haven't had a lot of 4×4 opportunities to run a time that I know we can run," Harris said.
 
Harris ran the anchor leg of Iowa's winning relay at the Big Ten Championships, finishing with a time of 3:06.32.
 
"I believe this week is a good week to run a fast time in the 4×4," said Harris. "We can run 3:01 and maybe 3-flat and try to break our school record from last year."
 
While Harris holds a small advantage on others after competing on the same track at the 2017 USATF Championships, he will feel more comfortable having his family in the stands.
 
"My mom is going to be coming down from Washington. She is bringing my two little cousins and I believe my dad and grandma may be driving up from Long Beach to watch me run," Harris said. "It's nice (to have family watch), because in high school, my mom didn't get to watch me run a lot since I moved to California. Being able to have her come down here and watch me run means a lot."
 
Harris and the Hawkeyes begin competing for their spots in the NCAA Championships on Thursday, beginning at 2 p.m. (CT) with the women's javelin. A live stream of the meet is available through FloTrack.