Hawkeye Fan Shop — A Black & Gold Store | Hawk Talk Monthly — May 2018 | 24 Hawkeyes to Watch 2017-18 | I-Club Events Page | Thursday Results | Thursday Photo Gallery

Editor's Note: The following first appeared in the University of Iowa's Hawk Talk Daily, an e-newsletter that offers a daily look at the Iowa Hawkeyes, delivered free each morning to thousands of fans of the Hawkeyes worldwide. To receive daily news from the Iowa Hawkeyes, sign up HERE.
By JACK ROSSI
hawkeyesports.com
EUGENE, Ore. — Before the season, University of Iowa senior Jahisha Thomas envisioned earning a medal at the NCAA Outdoor Track and Field Championships.
 
On Thursday it became reality.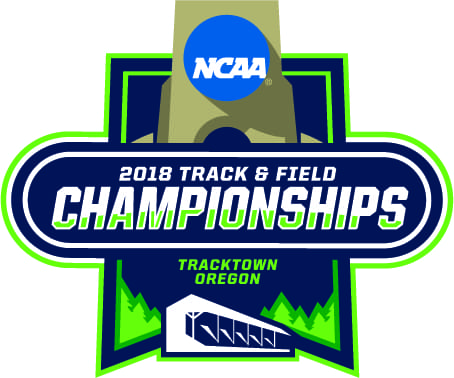 Thomas becomes Iowa's first first-team All-American in the long jump after a third-place finish at the 2018 NCAA Track and Field Outdoor Championships. She was just off her personal best with a mark of 21-feet 5 ¼-inches and did so by only recording three legal jumps.
 
"I fouled out during the triple jump indoors and I never wanted to do that again," Thomas said. "I haven't been used to fouling in a while, but then again, I haven't taken many jumps. I needed to keep calm."
 
Thomas hasn't been taking jumps because she has been so efficient. The London native won the long jump and triple jump titles on her first attempts at the Big Ten Championships and then only jumped three times at the NCAA West Preliminary on her way to qualifying for the NCAA Championships in two events.
 
But her foul to start the NCAA Championships may have put pressure on early. Thomas came back to take a brief lead after her second attempt of 20-feet 11 ¼-inches, which was enough to earn her three more jumps in the nine-athlete final.
 
"It was a bad jump, but it was enough," Thomas said. "Once I was into the finals, the competition heated up. It was a fantastic field and they were doing fantastic things and I was trying to be with them."
 
After fouling on her fourth jump, Thomas knew that her fifth jump was vital to keep her in the competition. Her fifth jump was the decisive one, which clinched the bronze medal and earned the Hawkeyes six team points.
 
 After placing 16th in the event the previous two years, Thomas had finally broken through.
She has accumulated two gold medals at the Big Ten Championships and now a bronze medal at the NCAA Championships, but this one is extra special because she gets to share it with somebody else.
 
"I wanted to show coach (Clive Roberts) that things are working. I wanted to prove to myself, but also prove to coach," Thomas said. "I wanted to give this to him in a way."
However, Thomas' year isn't over. She is slated to compete in the triple jump Saturday and according to Thomas, being herself is key to staying focused.
 
"I need to be myself, be happy, be relaxed, and listen to my music," she said. "It's a new day. After today, it's onto the next day and refresh. The long jump doesn't exist anymore in my mind. If I hold up on this, then I won't progress."
 
The triple jump begins Saturday at 5:40 p.m. (CT) on Hayward Field.
 
"I am going to enjoy the long jump and then on Saturday its go-time," Thomas said. "I am going to keep building. It's not the end and I want to say it's just starting."