Hawkeye Fan Shop — A Black & Gold Store | Hawk Talk Monthly — May 2018 | 24 Hawkeyes to Watch 2017-18
Editor's Note: The following first appeared in the University of Iowa's Hawk Talk Daily, an e-newsletter that offers a daily look at the Iowa Hawkeyes, delivered free each morning to thousands of fans of the Hawkeyes worldwide. To receive daily news from the Iowa Hawkeyes, sign up HERE.
By JACK ROSSI
hawkeyesports.com
EUGENE, Ore. — It was almost a year to the day that the University of Iowa men's track and field team recorded its highest finish at the NCAA Championships, but in 2018, it was the women's team that set the bar even higher.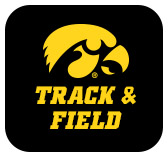 The Hawkeye women battle through rain and hail to finish with a program-best 19 points to place 13th at the 2018 NCAA Track and Field Championships. It was a sign that director of track and field Joey Woody has the program trending upwards.
 
"One thing we talk a lot about as a staff is setting the vision for our athletes to see it, absorb it, and understand that they are capable of being a top-20 team," Woody said. "We put that vision out in front of them and they bought in, believed, and got it done. I am excited that we accomplished something that we set our minds to."
 
It starts with the culture that the fourth-year head coach and his staff have been creating that gets the most out of their student-athletes.
 
"When you feel like you are part of a family then you will fight and peak at a much higher level than just being part of a team," Woody said. "It's a family atmosphere we've created at Iowa."
 
The team was led by first-team All-Americans Jahisha Thomas and Laulauga Tausaga. Both student-athletes accumulated two top-six finishes in both events they competed in.
 
For Thomas, it was the finale of a successful Iowa career. Thomas won four Big Ten titles during her senior season, sweeping the long jump and triple jump in both the indoor and outdoor seasons.
 
Her career concluded with a third place finish in the long jump and sixth place in the triple jump. As she says farewell to the Hawkeyes, she leaves the program in a much better position than when she arrived.
 
"This is not what it was like when I was a freshman," Thomas said. "It has been great seeing the transformation, growth, and development of everybody with their training and combined with their talent and potential. Lagi (Tausaga), Brittany (Brown) in the sprints, Briana (Guillory), and Jenny (Kimbro) in the hurdles, our women's team is combative."
 
"Our program would not be where it is at without Brittany Brown, Jahisha Thomas and all the seniors," Woody said. "We scored a lot of points with Jahisha and being a two-time All-American outdoor is tremendous."
 
With the departure of Big Ten champions like Brown and Thomas, others are ready to carry the torch.
 
"Our women's team is rock solid and I am so excited," Thomas said. "I am so blessed and happy to be a part of a women's team that has escalated to this level right now. It has been a great experience."
 
"We're on our way up," Tausaga said. "We have it in us to get more people to the national meet. We've grown so much this year. From my perspective on the throwers, we're putting work in. We've got our guns out."
 
Up next for the Hawkeyes is the USA Track and Field Championships in Des Moines, Iowa, where Iowa's top athletes will compete for national championships.