Hawkeye Fan Shop — A Black & Gold Store | Hawk Talk Monthly — June | Fight For Iowa
Editor's Note: The following first appeared in the University of Iowa's Hawk Talk Daily, an e-newsletter that offers a daily look at the Iowa Hawkeyes, delivered free each morning to thousands of fans of the Hawkeyes worldwide. To receive daily news from the Iowa Hawkeyes, sign up HERE.
By RICK BROWN
hawkeyesports.com
SILVIS, Ill. — Thursday is University of Iowa Day at the John Deere Classic, and Hawkeye fans in attendance are encouraged to wear black and gold.
 
Brian Bullington plans to get in on the act.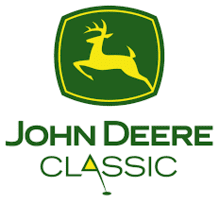 "I will be wearing my black and gold, I guarantee it," Bullington said. "It's going to be great."
 
There were four spots to the John Deere Classic up for grabs during Monday's qualifier at Pinnacle Country Club in Milan. Three of them went to former Hawkeyes – Bullington, who led the field with a 9-under-par 63, and Sean McCarty and Vince India, both with 65s.
 
"The three of us were standing on the putting green as the final scores were rolling in," Bullington said. "We were saying, 'This is incredible. What are the odds?'"
 
All three earned All-Big Ten honors at Iowa, but never played together. McCarty was a senior in 1995, India in 2011, and Bullington in 2015.
 
"It's neat to have three decades of Iowa golfers get through there," McCarty said.
 
India, the Big Ten Player of the Year in 2011, is playing in his first John Deere Classic.
 
"Three generations," India said. "It's cool. We never played with each other, but I've known Sean for a while. Brian and I missed each other by a year."
 
All three Hawkeyes will start the first round Thursday off No. 1 tee at TPC Deere Run. McCarty tees off at 2 p.m. (CT), India at 2:10, and Bullington at 2:20.
 
Now 29, India has fought back issues the last two years but feels he's close to getting his game back.
 
"I still think my best golf is ahead of me," India said. "I was playing the best golf of my life when I got hurt (in 2016)."
 
Bullington played here on a sponsor's exemption in 2016, missing the cut.
 
"I was incredibly nervous," said Bullington, who shot 75-74. "The second time around, I'm more comfortable."
 
McCarty might be the only player in the tournament's history to qualify in three different ways. He got in the first time on a sponsor's exemption in 1997. That event was played at Oakwood Country Club in Coal Valley, Illinois. He has also got in by winning the Iowa Section PGA title. And now he got in as a Monday qualifier, a year after coming up short in a playoff.
 
This will be McCarty's sixth John Deere appearance. He has missed four cuts in a row, but his debut appearance was a memorable one. McCarty was tied for second, a shot off the lead, after an opening 66 in 1997. He was tied for fourth after a second-round 67 and ended up finishing tied for 23rd.
 
McCarty has been playing at a high level this summer. He tied for second at the PGA Professional Championship in Seaside, California, last month. That earned him a spot in the PGA Championship next month at Bellerive Country Club in St. Louis.
 
"It has been a fun summer," McCarty said. "I've been driving the ball well, which has really helped. I'm still moving it out there for an old guy."
 
McCarty has struggled with back issues throughout his career, but a swing change has kept him on the course this summer.
 
"The body is hanging in there," McCarty said. "I've been feeling good. I've changed my swing a little bit to accommodate my aches and pains. It's a different ball flight, but it's working."
 
A day after qualifying for the 2016 Web.com Tour, India injured his back.
 
"I probably should have taken the year off, but I didn't know any better," India said. "It's coming around. It feels better than it has in a long time. My game is coming around. It's easy to develop some crappy swing flaws when you're playing hurt and your body's not been moving normally. I'm trying to get back to where it was."
 
Bullington, 24, has also undergone some changes in his game since leaving Iowa.
 
"I've been a pro for three years now," Bullington said. "This past year I've made a few (swing) changes. I've gotten stronger, and I'm hitting the ball a lot further. The changes have taken a little while to set in. I had a rough spring."
 
Bullington played on PGA Tour Latinoamerica, but missed every cut.
 
"I knew the changes would take a lot of time, and there were a lot of lows, but I knew the results would come at some point," Bullington said. "So it was nice to play well Monday and get the ball rolling in that direction."
 
When he played here in 2016, Bullington said he tried to make a lot of birdies and force things. He'll take a new approach with him Thursday.
 
"You need to focus on the process, focus on each shot, all the cliché stuff you always hear," Bullington said. "There's a reason you hear that from the top guys."
 
He'll do it wearing his black and gold.