Hawkeye Fan Shop — A Black & Gold Store | Hawk Talk Monthly — June | 24 Hawkeyes to Watch 2018-19
Editor's Note: The following first appeared in the University of Iowa's Hawk Talk Daily, an e-newsletter that offers a daily look at the Iowa Hawkeyes, delivered free each morning to thousands of fans of the Hawkeyes worldwide. To receive daily news from the Iowa Hawkeyes, sign up HERE.
By JACK ROSSI
hawkeyesports.com
IOWA CITY, Iowa — The 2017 season came down to the final few matches. A few points kept the University of Iowa volleyball team from the NCAA Tournament. It was a bitter ending for the seniors, but for the program, it was another step in the mission and that mission has hardly come to its end.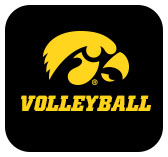 The Hawkeyes are in the midst of its preseason, which started August 8, and as the team builds toward its first match August 25, the points from a year ago still sit in the back of their minds.
 
"That is a motivating factor," Iowa head coach Bond Shymansky said. "It can be bitter at times, but it can also be inspiring. It makes our players, especially the returners, work harder. They all understand that we are going to get many great opportunities to have one point moments again this year."
 
Shymansky enters his fifth year as Iowa's head coach and under his tutelage the Hawkeye program has found its footing. In 2016, Iowa had its first winning season since 2000 and after going 18-15 a year ago, Iowa has had back-to-back winning seasons for the first time since five straight winning seasons from 1986-90.
 
"It has been a slow and steady climb," Shymansky said. "I am as impatient as anybody is. I wanted it to come the first year and then the second year, but this climb has been obvious as we've gone from a 170 rating percentage index (RPI) down to a 46 RPI. We are right there on the bubble."
 
Iowa has already received recognition from the Big Ten Conference of their ascent. Senior Taylor Louis was named Iowa's first preseason All-Big Ten honoree since 2001. Heading into her final year, she feels less pressure than ever before.
 
"It is my senior year and I have nothing to lose," Louis said. "We have some good pieces to support what we're trying to do and where we're trying to go, so that relieves the pressure."
 
Iowa welcomed six freshmen and one transfer to the team over the summer and the preseason has been an important time for players to adjust and create chemistry for the upcoming season.
 
"The team has been working well together," Shymansky said. "They are treating each other well. They have a great attitude for the competition and training. What role they take and what position that shapes into I'm not sure of yet, but we have time to figure that out. The key is that everybody is pushing hard."
 
"I did not expect so much of 6-on-6 play, but I like it," freshman middle blocker Hannah Clayton said. "I like playing with my teammates and adjusting to playing with them. I have adjusted pretty quickly to the speed of the game, but for me, the biggest thing is working on sets behind the setter because I did not run that a lot before I came here."
 
Iowa's steady progress over the years has been evident and 2018 is Iowa's year to break its 24-year NCAA Tournament drought. It all comes back to Iowa's mission of True Mental Toughness.
 
"We need one more step forward," Shymansky said. "When the team gets on the mission and they own it. That is when they will make the next step."
 
The Hawkeyes host their Black & Gold Scrimmage on Saturday at 11 a.m. (CT) inside Carver-Hawkeye Arena. Admission is free. Season tickets are still available at hawkeyesports.com/tickets or over the phone at 800-IA-HAWKS.