24 Hawkeyes to Watch 2018-19 | Hawkeye Fan Shop — A Black & Gold Store | Hawk Talk Monthly — June | SMU Box Score | Lipscomb Box Score | Boxscore
NASHVILLE, Tenn. — The University of Iowa volleyball team wrapped up the first day of the 2018 season, going 1-1 at the LUV Invitational inside Allen Arena on Saturday.
The Hawkeyes opened the season by taking down Southern Methodist University in four sets (25-17, 21-25, 25-21, 25-18). Later that day, Iowa fell to Lipscomb University in five sets (13-25, 25-20, 25-16, 18-25, 15-10).
HOW IT HAPPENED – SMU
SET 1 (25-17) | Iowa started hot out of the gates. Senior Taylor Louis opened up with a kill for Iowa's first point and clinched the first set with two kills for Iowa's final two points.
SET 2 (21-25) | The Hawkeyes surrendered the second set. Louis led Iowa with five kills. Sophomore Brie Orr chipped in eight assists.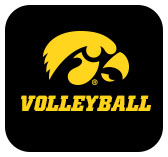 SET 3 (25-21) | Iowa founds its groove in the third set. A four point rally put Iowa ahead 8-4 and the Hawkeyes held the lead. Junior Meghan Buzzerio led with five kills. Orr, Louis, freshman Hannah Clayton, and senior Reghan Coyle all contributed a block during the set.
SET 4 (25-18) | Iowa fell behind early 4-0, but a kill by Louis and back-to-back aces by Clayton brought Iowa back. Midway through the set, Louis brought Iowa ahead, 16-13, amidst a four point rally. Louis finished with six kills in the set followed by Buzzerio with five.
HOW IT HAPPENED – LIPSCOMB
SET 1 (13-25) | Iowa fell early in the first set and never recovered. Orr chipped in six assists, while Coyle and Buzzerio both had three kills each.
SET 2 (25-20) | The Hawkeyes came back strong in the second with a solid set victory. Louis had five kills, Orr had 11 assists, and senior Molly Kelly added four digs. Iowa fell 0-3 before Louis got things going with a kill. Coyle followed up with a couple kills and Iowa went on a six point run to lead 10-4. Iowa finished off the second set to even the score at 1.
SET 3 (25-16) | Iowa won the third set behind strong play by Orr (13 assists) and Louis (5 kills). Iowa also tallied six blocks during the set.
SET 4 (18-25) | Iowa fell behind early in the fourth set. Louis had nine kills to lead all players during the set, but the Bison forced a fifth and final set.
SET 5 (10-15) | It was back and forth during the fifth and final set. Iowa stalled with seven points and Lipscomb took the match. Orr chipped in four assists.
NOTEABLES
Senior Molly Kelly notched a career-high with 20 digs against SMU and followed with another career-high performance against Lipscomb with 24 digs.
Taylor Louis and Reghan Coyle were named to the All-Tournament team.
Sophomore Brie Orr combined for 85 assists.
UP NEXT
The Hawkeyes compete against Belmont tomorrow at 3 p.m. (CT). The match will be televised on the Ohio Valley Conference (OVC) Digital Network. Live results and radio of the match are available on hawkeyesports.com.