Hawkeye Fan Shop — A Black & Gold Store | 24 Hawkeyes to Watch 2018-19
By JACK ROSSI
hawkeyesports.com
 
IOWA CITY, Iowa — With the second weekend of the 2018 volleyball season underway, teams are looking for their next big contributors and for the University of Iowa volleyball team, freshman middle blocker Hannah Clayton fits that role.
 
A native of Bloomington, Illinois, Clayton came to Iowa City with uncertainty as to her playing time.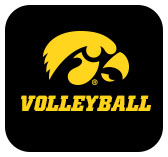 "Before coming here, I didn't (think I would play)," Clayton said.
 
When preseason started August 8 and lineups began forming, Clayton saw herself frequently in the mix while­ adjusting to the speed of the game.
 
"During preseason it was a lot faster than what I was used to during club, but (head coach) Bond (Shymansky) and the rest of the coaches have done a good job of getting us used to that before the season," Clayton said.
 
Clayton adjusted well and ended up starting all three matches during the team's opening weekend in Nashville, Tennessee.
 
"I have never been to Nashville, so that was cool to go there for the first time," Clayton said. "The first two matches were kind of what I expected it to be."
 
Clayton looked comfortable in the role, tallying two aces, two kills, and 13 blocks against SMU and Lipscomb.
 
The Hawkeyes' third match of the weekend was at Belmont where Clayton finished with seven kills on 14 attempts. She also added five blocks to her stat line.
 
"The SMU and Lipscomb games were familiar to me because my main focus is blocking," Clayton said. "Belmont was when Amiya (Jones) and I started getting set and involved in the offense."
 
After the weekend, Clayton placed herself near the top of the NCAA with 18 blocks to rank 35th in the nation and third in the Big Ten. Her efforts have also helped Iowa rank 24th in the country in blocks per set with 2.92.
 
The Hawkeyes departed Nashville with a 2-1 record, but it was all a learning experience for the newcomers.
 
"It was a lot different from club (volleyball), but it was fun to get the experience to play with the girls in a real match," Clayton said.
 
A solid start to her season isn't an excuse to slow down. Clayton has been working on refining her blocking technique with assistant coach Vicki Brown.
 
"The middles and I have been working pressing over with both of our hands and dropping that left hand in," Clayton said. "We need to make sure our hands are nice and wide and that is something I will focus on."
 
The Hawkeyes conclude play in the Pac-12/Big Ten Challenge in Seattle today against No. 21 Colorado at 5 p.m. (CT) inside Alaskan Airlines Arena. The game will be broadcast on Pac-12 Network.