24 Hawkeyes to Watch 2018-19 | Hawkeye Fan Shop — A Black & Gold Store | VIDEO — Reghan Coyle
By DARREN MILLER
hawkeyesports.com
 
IOWA CITY, Iowa — Reghan Coyle is an illustration of a homegrown Hawkeye.
 
She is a talented volleyball student-athlete who had little fanfare in high school. She spurned a full-ride scholarship so she could attend the University of Iowa as a walk-on, primarily because of the strength of its pharmacy program. Four years later, she has earned a scholarship, is one of three team captains, and has a Big Ten Conference Player of the Week award under her belt.
 
"Coyle is the perfect story of the consummate Iowa kid," Iowa head coach Bond Shymansky said. "She didn't have a lot of exposure, nobody really knew about her and frankly, we weren't recruiting her. Coyle recruited herself to Iowa."
 
Recruited herself to Iowa?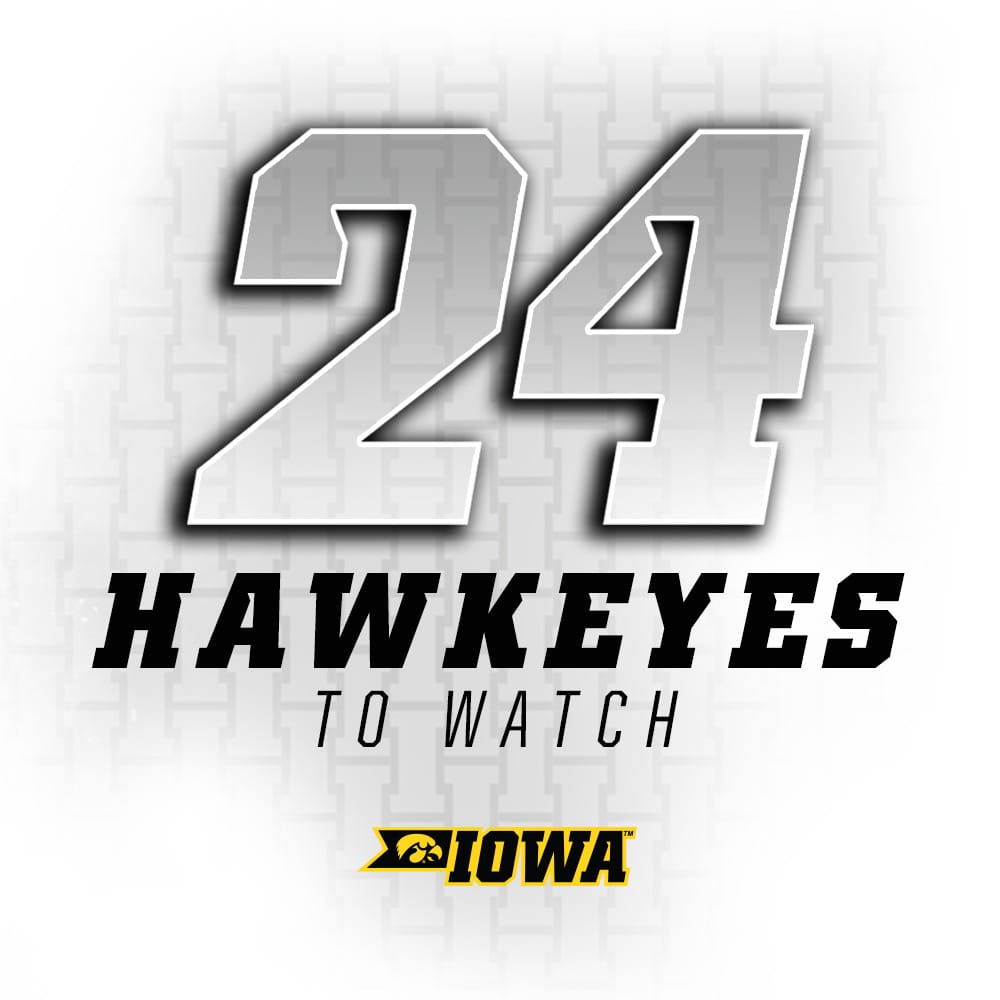 "She came to our camp and impressed us a lot, but at that point we didn't have a scholarship to give her," Shymansky said. "I was trying to push her away a little bit to say, 'I don't think you're ready for this; if you want to come, you can come as a walk-on, but I don't think you're ready.'"
 
Ready or not, Coyle jumped into life as Hawkeye with both feet.
 
Her freshman season in 2015, she played in 23 matches, with the majority of action coming late in the season. Her first start didn't come until the month of November and her .091 attack percentage was nothing to write home about, or reason to climb the depth chart.
 
"Freshman year was tough, I was a little home sick," Coyle said. "That was one of my toughest years, but I am so glad I fought through it and stuck together with (fellow senior) Molly (Kelly). We made it all four years."
 
There were a few dark moments when Coyle questioned if she made the right decision. The reason she came to Iowa in the first place was so she wouldn't spend the rest of her life regretting an opportunity to play for the Hawkeyes and compete in the Big Ten Conference. So, Coyle relied on her "hard work pays off" outlook and moved forward with true mental toughness. 
 
"I knew if I kept putting in the time it would eventually pay off," Coyle said. "I took extra reps, did whatever I needed to do, and I found my place as a rightside hitter."
 
As a sophomore in 2016, Coyle appeared in all 32 matches and was one of five Hawkeyes to appear in all 110 sets. She was at the top of her game during back-to-back home victories against Northwestern (Oct. 28) and No. 24 Illinois (Oct. 29), combining for 32 kills and six blocks. In a five-set win against Illinois, Coyle had 18 kills and a .556 attack percentage.
 
"That was a good confidence-booster for me," Coyle said. "I knew I was kind of a go-to player at the time and I wanted to embrace that role in moments when we needed it, most importantly at the end of the game or clutch situations."
 
It was as a sophomore when Coyle established career-bests in sets played (110), kills (239), kills per set (2.17), attack percentage (.295), and blocks (75).
 
Last season Coyle continued to produce. She played 33 matches, averaged 1.72 kills per set and for the second consecutive season, finished with an attack percentage of .290. In the offseason, she was named team captain.
 
"It means a lot coming from my teammates and coaches," Coyle said. "Everybody comes here as a freshman and they are pretty quiet and are looking for their place. As I grew as an older player, I took younger players under my wing and seeing that honor pay off as a team captain means a lot. I am excited to lead the team in the right direction."
 
Council Bluffs is more than 240 miles west of Iowa City, not exactly in the shadow of Carver-Hawkeye Arena. But, along with her parents Kenny and Andrea, Coyle grew up a Hawkeye fan. When she was 3-years-old, Coyle started with athletics, but soccer was her first love. As a senior in high school, Lewis Central went 13-4 and Coyle was selected to play in a senior all-star game.
 
As much as Coyle enjoyed and excelled at soccer, she was even more successful at volleyball. A two-time second-team all-state selection, Coyle helped Lewis Central to the Class 4A state tournament as a senior.
 
"I didn't know I could play college Division I volleyball until my junior or senior year (of high school)," Coyle said. "It became more of a possibility when I was doing more competitive club."
 
She turned down a scholarship because the campus visit didn't knock her off her feet. Then Coyle attended camp at Iowa.
 
"I loved the coaching staff, the girls, and the team when I came on my visit," Coyle said. "I love Iowa City. Senior year (of high school), I knew I wanted to study pharmacy and Iowa has a great pharmacy program, so it's an all-in-one-package."
 
After the first two weekends, Coyle leads the Hawkeyes in attack percentage (.382) and is tied for the lead with three ace serves. She has 51 kills and 13 blocks.
 
The Hawkeyes have enjoyed back-to-back winning seasons, going 19-13 in 2016 and 18-15 a season ago.
 
"Our expectation is the NCAA Tournament," Coyle said. "We have been so close year after year and this year we want to get further into December. We want to keep working."
 
Shymansky is in his fifth season at Iowa and he continues to elevate the program. That will happen again this season with a former in-state walk-on leading the way.
 
"She does all the intangible things the right way," Shymansky said. "I think she is the greatest story of what being a Hawkeye is all about."