I-Club Events Page | Hawk Talk Monthly — September | VIDEO | Herky Photo Gallery | Herky drawings | Throwback: Herky at 68
By DARREN MILLER
hawkeyesprts.com
IOWA CITY, Iowa — Who knew what doors would open because University of Iowa journalism professor Dick Spencer penned an endearing hawk later known as Herky?
 
Spencer was teaching a class in editorial cartooning in 1948 when he created the now-famous caricature of a hawk at the request of athletics director Paul Brechler. Brechler wanted the University of Iowa to have a mascot like many of its Big Ten Conference rivals. Frank Havlicek, business manager of athletics under Brechler, assisted with inviting the public to submit their drawings.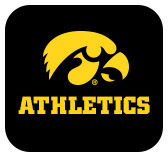 Seven decades later, many of the original sketches have been donated to the University of Iowa Libraries by Havlicek's daughter, Jane Roth. Over the years, Spencer gave several Herky drawings to Havlicek.
 
"These should not be sitting in a box," Roth said. "My mother and I felt that these drawings were special and they needed to be returned to the University of Iowa where they could be protected and preserved, and yet opened, used, and available to the University of Iowa community."
 
Fifty-four different illustrations of Herky were donated to the University of Iowa; Roth retained two drawings — one that Spencer personalized to her and one that he personalized for Frank Havlicek.
 
In no small part to Herky, Roth and the University of Iowa have cultivated a relationship over time. Havlicek knew that a mascot, specifically Herky, would interest many more Iowans into following and investing in Iowa athletics. What he couldn't have imagined is how Herky would bring his daughter to the university where he and his wife were employed.
 
Not only did Havlicek work in the athletics department as assistant swim coach under David Armbruster and then as business manager, but his wife, Bernice (Bunny), was president of her nursing class and secretary of student government when Nile Kinnick was student body president. Jane graduated from Rockford College in Rockford, Illinois, but her primary charitable cause is in Iowa City, Iowa.
 
"The University of Iowa is my absolute philanthropic focus and passion because of what it means to me, but also what it meant to my parents," Roth said.
 
Bunny is a 1940 graduate of University of Iowa College of Nursing and Jane established a scholarship in her honor. Bunny grew up in Bloomfield, Iowa, with little money and worked a year in a dry goods store in order to afford college. The owner of the store gave Bunny extra money in order for her to attend the University of Iowa.
 
"I wanted to help others, just like my mother was helped," Roth said. "It is wonderful because even today when I meet recipients of the scholarship, it gives me goose bumps."
 
The gift that benefits nursing students was a prelude to the gift of Herky drawings.
 
"Jane had a connection with one area of the university," said Mary Rettig, assistant university librarian for advancement. "But Herky has opened the door to a lot of Iowans, it also opened the door for her to other areas of the university. There are many ways of connecting within the university. It is relationships and it led her to another area of getting to know people."
 
And its roots can be traced to an endearing hawk known as Herky.
 
About the exhibit
To see the original drawings, learn more about Herky's history and updates through the years, visit UI Libraries Special Collections. A special exhibit is on display through Friday, Oct. 19. Hours are available HERE.