24 Hawkeyes to Watch 2018-19 | Hawkeye Fan Shop — A Black & Gold Store | Hawk Talk Monthly — September | Box Score (PDF) | Boxscore
AMES, Iowa — The University of Iowa volleyball team (6-3, 0-0) opened the Cyclone Classic with a four set win over the Iowa State Cyclones inside the Hilton Coliseum on Friday night.
It is Iowa's first win in Ames since Sept. 13, 1997.
HEAR FROM COACH SHYMANSKY
"I was in grad school at Iowa the last time Iowa won here. It feels pretty darn good. It was a really great team effort. Our team was ripe for the 3-0 sweep and let them crawl back into it, but it took a lot of fortitude to dig down and come out with a great four set win."
"What a great bookend for a career for Reghan Coyle and Molly Kelly, who are two Iowa girls, they came in and contributed to a win (against Iowa State) their freshman year. They are both walk-ons from Iowa. They know this is the Hawkeye State and for them to win here their senior year is great."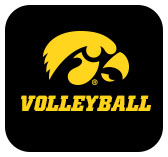 HOW IT HAPPENED
Set 1 (25-20) | The Hawkeyes and Cyclones traded points in the first set until two attack errors and a net violation put Iowa down 9-12. An Amiya Jones kill and back-to-back kills by Taylor Louis gave Iowa its first lead of the match at 17-16. Iowa's offense opened up with Louis, Hannah Clayton, Brie Orr, and Cali Hoye finishing off the first set for Iowa with kills. Iowa's first set win was the team's first time taking set one since Aug. 26, 2006 (30-28).
Set 2 (25-21) | Iowa picked up where it left off in the second and opened up a 6-2 lead with Hoye kills on four of Iowa's first six points. Following an Iowa State timeout, the Cyclones tied the game at 15, but Hoye and Louis traded kills to give Iowa a 22-19 lead. Hoye's effort on Iowa's 23rd point landed her on the scorer's table, but helped seal the set win for the Hawkeyes.
Set 3 (23-25) |Iowa opened the third set with a 2-0 lead, but four straight errors allowed the Cyclones to take the lead at 7-9 before a Louis kill and Orr ace tied the match at 9. Iowa and Iowa State tied at every point until back-to-back Clayton blocks gave Iowa a 19-17 lead. After an Iowa State timeout, the Cyclones tied it at 22 and then took the third set to avoid the sweep.
Set 4 (25-20) | Iowa and Iowa State traded points in the fourth until a Hoye kill and ace gave Iowa a two point lead at 14-12 and the Hawkeyes never looked back, leading by as much as 19-14. Reghan Coyle killed three of Iowa's last six points and, after an Iowa State service error, Louis clinched the win with a kill that erupted the Hawkeye bench.
NOTABLES
·       Junior Cali Hoye tied a career-high with 11 digs.
·       Sophomore Brie Orr tied a career-high with 16 digs.
·       Iowa leads the overall Iowa Corn Cy-Hawk Series 5-2 with wins in football and volleyball.
UP NEXT
The Hawkeyes continue the Cyclone Classic with matches against Wyoming and Syracuse at 12 p.m. (CT) and 6 p.m., respectively. Live results are available on hawkeyesports.com/vblive.