Hawkeye Fan Shop — A Black & Gold Store | 24 Hawkeyes to Watch | Wyoming Box Score (PDF) | Syracuse Box Score (PDF) | Boxscore
AMES, Iowa – The University of Iowa volleyball team (8-3) capped off its second straight undefeated weekend with wins over Wyoming and Syracuse to win the Cyclone Classic on Saturday inside the Hilton Coliseum.
After defeating Iowa State in four sets on Friday, Iowa defeated Wyoming in four sets and Syracuse in five sets.
HOW IT HAPPENED – Wyoming
Set 1 (25-22) | The Hawkeyes dug themselves in a hole in the first set, trailing 17-21 before an Iowa timeout. Following the short break, senior Reghan Coyle added two kills and an ace to bring Iowa closer at 20-22. Iowa did not allow another point as junior Cali Hoye continued the momentum, rallying four straight kills to complete the comeback.
Set 2 (16-25) | Iowa was caught off guard in the second set as the Cowgirls consistently attacked Iowa's middles. The score remained even until a Hawkeye net violation gave Wyoming a two point lead which started the snowball. Iowa fell back to as many as seven points and Wyoming took the second set.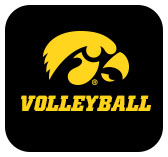 Set 3 (25-19) | The third set saw a string of long rallies for both teams. The Hawkeyes opened up a 7-2 lead before a Wyoming timeout halted their momentum. Wyoming closed the gap to 16-13, but kills by sophomore Brie Orr and freshman Sarah Wing held off the Wyoming attack. Iowa closed the third set with a Wing block, two Taylor Louis kills, and a kill by Hoye.
Set 4 (25-22) | The closest set of the match saw 12 ties as the teams went back and forth for most of the set. Wyoming called a timeout following a Louis kill to give Iowa a two point lead (19-17), but after a Wyoming kill brought the score within one, freshman Amiya Jones responded with a big kill followed by a Louis kill and Coyle block to give the Hawkeyes their biggest lead of the set at 22-19. An attack error by Wyoming sealed the victory for Iowa.
HOW IT HAPPENED – SYRACUSE
Set 1 (18-25) | Syracuse got the jump on Iowa early in the first set, opening up a 4-0 lead before a Sarah Wing kill got Iowa on the board. Iowa closed the gap to a point at 8-9, but that's as close as the Hawkeyes got. Iowa made another short run with two Louis kills, but it wasn't enough and Iowa surrendered the first set.
Set 2 (25-15) | Iowa started off the second off on the right foot with kills by Hoye and Coyle along with an ace by Louis. Kills by Wing and Louis forced a Syracuse timeout at 10-6. The Hawkeyes continued to take advantage of a -.033 hitting percentage by the Orange during the second set and sealed the second set with a Louis block.
Set 3 (19-25) |The third set followed the same pattern as the first as the Hawkeyes fell early and couldn't keep up. Iowa brought the set within three points at 9-12, but gave up a four point run. Hoye led Iowa with five kills in the set and Orr tallied 11 assists.
Set 4 (25-19) |Iowa responded in the fourth set with a Louis kill to set the tone. The Hawkeyes and Orange battled throughout the set with nine ties until Iowa opened a four point lead at 18-14 thanks to a Coyle kill. Jones capped off Iowa's fourth set win with a kill.
Set 5 (15-10) | In the fifth and final set, Louis took over with Iowa's first three kills. Hoye followed up with four more kills to give Iowa a 9-7 lead and force a Syracuse timeout. Louis tallied back-to-back kills to make it 12-8 and force another timeout. Iowa finished the match with an ace and kill by Louis and a kill by Hoye.
NOTABLES
·       Seniors Taylor Louis (MVP), Cali Hoye, and Molly Kelly were named to the Cyclone Classic All-Tournament team.
·       Sophomore Brie Orr's 54 assists against Syracuse are a season-high and her 17 digs against Wyoming are a career-high
·       Senior Reghan Coyle tied a career-high with two aces against Wyoming.
·       Junior Cali Hoye set career-highs in kills (24) against Syracuse and a career-high in digs (14) against Wyoming.
UP NEXT
The Hawkeyes return to Iowa City to face their first two Big Ten opponents of the season with matchups against Michigan State on Friday and Michigan on Sunday. Tickets for both matches are still available at hawkeyesports.com/tickets.