24 Hawkeyes to Watch 2018-19 | Hawk Talk Monthly — September | Photo Gallery | Box Score (PDF) | Boxscore
IOWA CITY, Iowa — The University of Iowa volleyball team swept Michigan State, 3-0, in its Big Ten opener on Friday night inside Carver-Hawkeye Arena.
Friday's win marks the second straight time Iowa has won its Big Ten opener. The Hawkeyes defeated Rutgers last season.
HEAR FROM COACH SHYMANSKY
"This is a great start for our group. It's been a while since we started out on the top of the Big Ten. It was a great effort by our team and getting a win over Michigan State in a 3-0 sweep was significant. We came out early and you could feel the nerves in our group. We had five service errors in the first set, but then didn't have any after that. That really shows our true mental toughness. Things got tight internally in the third set, but loose in terms of the volleyball and I'm glad we were able to pull it out as Michigan State started to get hot."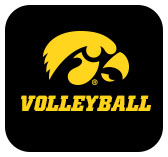 HOW IT HAPPENED
SET 1 (25-19) | The Hawkeyes come out strong in front of a crowd of 1,872, including alumni. Iowa quickly got out to a 3-1 lead and didn't look back with the biggest lead coming at 14-9. After the first set, junior Cali Hoye led Iowa with five kills on seven attempts and sophomore Brie Orr tallied 10 assists.
SET 2 (25-14) | Iowa opened up an even bigger lead in the second at 15-5. Hoye and freshman Sarah Wing blocked back-to-back attacks and Orr added a solo block of her own. The Hawkeyes pounded on the Spartan's middle blockers with freshman Amiya Jones adding two kills of her own in the set and Iowa went into the third set with two decisive set wins.
SET 3 (26-24) | After the intermission, the Spartans kept the third set close. Michigan State took the lead at 11-12 after an Iowa attack error and forced an Iowa timeout. The teams traded points until a kill by senior Taylor Louis forced a Spartan timeout. Iowa came out of the break with four straight points but Michigan State answered with a run of their own to take a 21-22 lead. Iowa battled back and tied it at 24. After an a kill by senior Reghan Coyle, Orr finished the match with a dump over the Spartan's blockers.
UP NEXT
Iowa hosts #18 Michigan on Sunday at 2 p.m. (CT) inside Carver-Hawkeye Arena. The meet will be live streamed on BTN2Go and live results of Sunday's match are available on hawkeyesports.com/vblive.