24 Hawkeyes to Watch 2018-19 | Hawk Talk Monthly — September
By ASHLYNN BAUER
hawkeyesports.com
IOWA CITY, Iowa — University of Iowa volleyball student-athletes will tell you that it's a whole new game once Big Ten Conference play begins and for junior Cali Hoye, she has already shown she belongs at this level.
 
The Hawkeyes opened their Big Ten season with a split last weekend inside Carver-Hawkeye Arena, sweeping Michigan State and falling in a four-set battle to No.18 Michigan.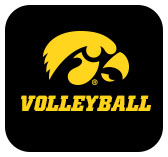 Hoye led the team in kills in both matches and following the weekend, she ranks second in the Big Ten with 4.57 kills per set.
 
"On the court, Cali has learned to be a great six-rotation player," said Iowa head coach Bond Shymansky. "She is steady and has a consistent, competitive demeanor. She can be fiery at times and has a great attitude. She also brings a spunky attitude when she gets big kills for our team."
 
Hoye is thriving amongst a highly competitive outside hitting group. She has 156 kills on the season, which rank second on the team behind senior Taylor Louis' 204. Louis is the NCAA's active kills leader.
 
"In practice every day, I see the other outsides doing well and that builds a competitive environment," Hoye said. "That has helped me throughout the years, even since my freshman year. It has always been competitive being an outside, and it has made me better."
 
The San Clemente, California, native is in her third season at Iowa and her first in a new role as a six-rotation player.
 
"To see her have the patience and persistence to work her way into a starting role now has been fun to see," Shymanksy said. "To watch that is rewarding for me as a coach, and hopefully it is rewarding for her as a player and a person."
 
Although Hoye is a new a role, her previous role as the leader of the team's bench press was just as important. Hoye was one the originators of the bench press, which is an idea of giving energy to the girls on the court from players on the bench in that moment.
 
"Now that she is in her new role, we challenged her not to change the bench press concept because she is on the court," Shymansky said. "We told her that she needs to have that same leadership and energy on the court."
 
"(The transition) was easy," Hoye said. "The whole team was on board with the bench press, our celebrations on the bench were consistent with the on-court action. It wasn't a big switch with the court celebrations. Everyone made it easy."
 
Those celebrations came easy on and off the court because of Hoye's personality.
"Off the court, she brings a dry and snarky wit, which is a lot of fun," said Shymansky. "She is quick and clever. She has a unique personality from a lot of our Midwest kids. She brings some of that California cool, as well as attitude with a chip on her shoulder, thinking that she has something to prove."
 
Bringing that chip on her shoulder to the court is something Iowa needs as it continues Big Ten play. 
 
"I try to give maximum effort so that goes with giving your best every time," Hoye said. "Whether that is knowing the scouting report, watching film, staying hydrated and fueling my body with the right nutrition. I bring uniqueness in that I am kind of a trash talker; I try to get everyone fired up, and bring that consistently to all of our matches."
 
Iowa continues Big Ten play with a pair of road matches, beginning Friday at No. 8 Illinois on Friday. The Hawkeyes then face Northwestern on Sunday.