Hawkeye Fan Shop — A Black & Gold Store | 24 Hawkeyes to Watch 2018-19 | Women's Cross Country Home Page | Men's Open Results
SOUTH BEND, Ind. — The University of Iowa cross country teams finished seventh in the women's "blue" 5,000 meters and ninth in the men's "blue" five mile races at the Joe Piane – Notre Dame Invitational on Friday.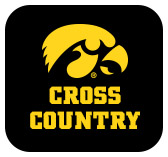 Seniors Daniel Soto and Andrea Shine led the Hawkeyes in their respective races. Soto bettered his personal best five miles time by more than 30 seconds, clocking in at 24:16.19 to finish 14th, overall. Shine finished the women's 5,000 meters, placing 15th in 17:10.29 to also break her personal best time by six seconds.
 
QUOTING COACH HASENBANK
On the women…
"I was excited for our women today. I think every spot in the lineup did better. We competed very well. We beat some very good teams from around the country. We were, again, led by Andie, but the most significant aspect of the race is that we closed gaps. Megan had a very good race in the two spot. Anna was close in the three spot, and three other freshmen impressed me in the four, five, and six spots. Grace raced more aggressively and looked confident out there on the course and Jessica McKee and Kylie Latham were not far behind. A lot of youth the lineup and they did a real nice job."
 
On the men…
"Dan Soto continues to impress me. He ran with and beat some very good runners today. What I liked most about Dan's last two outings is just how fearless he has become.  
He is establishing himself early at the front of the races and good things are happening for him. I think he has developed in so many ways over the past year. He was really still building strength and stamina last fall. By the indoor and outdoor season, he ran some very good times in his 3,000 and 10,000 meters. This showed me that he was fit and strong. He took it into the summer and is just getting better and better this fall."
 
"As a team, we competed well, not great. I thought we had some nice individual races. Brandon was a lot more aggressive early in the race and that gave him a pretty good result. Overall, I think we would all like to see us execute a little better. We need to run as a pack and be far more aggressive in the first third of the race.
 
"We had some young men make significant improvement in the open race as Spencer [Smith], Konnor [Sommer] and Jeff [Roberts] all ran well and posted big personal best times."
 
 
FRESH LEGS
The women's team was led for the third time by seniors Shine and Megan Schott (17:28.99) and were once again followed by a strong freshmen class. Anna Hostetler finished in the third scoring position (17:42.71), Grace McCabe in fourth (18:10.29), and Jessica McKee closed out the final scoring position (18:24.47).
 
NOTABLES
Junior Karson Sommer broke his personal best five mile time by one minute and five seconds, moving into the fourth scoring position for the Hawkeyes in 25:10.21.
Sophomore Noah Healy also broke his best five mile time by over a minute, scoring in the fifth position (25:25.77).
Dan Murphy shaved over 30 seconds off his previous best, finishing the five mile race at 25:32.47.
In the women's 5,000 meters open, Wren Renquist and Mary Arch put up personal best performances with times of 19:14.28 and 19:15.65, respectively. In the men's five mile open, Jeff Roberts bettered his five mile time by over a minute from last season, crossing in 25:53.46.
NEXT FOR THE HAWKEYES
The Hawkeyes head in different directions in two weeks as the women compete in the Bradley Invite on Oct.  12 and the men compete on Oct. 13 at the Pre-Nationals meet, hosted by Wisconsin. 
FOLLOW THE HAWKEYES
For an inside look at the Iowa cross country program and to access exclusive coverage, "like" The University of Iowa Cross Country and Track & Field Facebook page and follow @Iowa XC T&F on Twitter.