24 Hawkeyes to Watch 2018-19 | Hawk Talk Monthly — September
By JACK ROSSI
hawkeyesports.com
IOWA CITY, Iowa — Freshman middle blocker Amiya Jones' emergence on the University of Iowa volleyball team has been accelerated thanks to her strong connection with sophomore setter Brie Orr.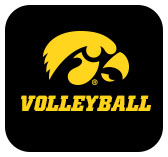 Jones had a breakout weekend in Iowa's Big Ten openers against Michigan State and No. 18 Michigan.
Defensively, the Indianapolis native combined for 11 blocks over the weekend and ranks third in the Big Ten with 1.57 blocks per set against conference foes.
 
"I am working on finishing my block," Jones said. "That is something that is important to me right now."
 
But Jones also made her mark offensively with an 18-kill weekend and she is second in the Big Ten with a .500 hitting percentage in Big Ten play.
 
It's been building to this since the start of the nonconference season, when Jones and Orr were both in the budding stages of their relationship.
 
"It's important to be on the same page with your setter because she dictates everything that goes on in the game," Jones said. "After the first pass, she controls wherever the ball goes. Having a good relationship with her means that she knows how to set you and you can score or she knows where to put the ball wherever the team needs it."
 
Orr was spoiled with middle blocker experience in her freshman season with two seniors, but the roles have since been reversed. In addition to Jones, Iowa welcomed two other freshman middle blockers in Hannah Clayton and Sarah Wing.
 
"I have been getting a lot of reps with the middles," Orr said. "Because they are freshmen, the only way they will learn is from repetition. There is not a lot to talk to them about, they just have to go out and get reps."
 
With more repetition comes learning each individual's set.
 
"Through repetition, Courtney (Buzzerio) and I will learn how each middle is different," Orr said. "Each middle will get a different set based on their style."
 
"I feel like our connection is getting a lot better," Jones said. "I was nervous at first. She wouldn't set me because I wasn't as consistent, but now we have bonded. I have gotten up more and been more available. It feels a lot better."
 
While outside hitters like Taylor Louis, Reghan Coyle, and Cali Hoye are Iowa's premier hitters, the middles offer a different vantage point and much quicker attacks.
 
"The middle is important in the offense because we can hit holes that the outside hitters may not be able to," Jones said. "We can see things that other players may not be able to see."
 
Looking ahead, the Hawkeyes will have another option in the middle that will only become more consistent.
 
"It adds another element to the offense with an offensive middle," Jones said.
 
The Hawkeyes return to action Friday, facing No. 7 Illinois at 7 p.m. (CT) in Champaign.