Hawkeye Fan Shop — A Black & Gold Store | Hawk Talk Monthly — September | 24 Hawkeyes to Watch 2017-18
By HANNAH OSSMAN
hawkeyesports.com
IOWA CITY, Iowa — University of Iowa junior Laulauga Tausaga is proud of her successes from her first two years on the track and field team, but is happiest just being a part of the Hawkeyes.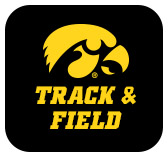 "I made the right choice to come here," said Tausaga. "Practice is practice, but with the right group of people it becomes fun. I don't like sprints, but when it's with the team, it's a lot better. They keep me going.
 
"I try to make sure that it's not me above my teammates. I like to boost their confidence. I tell them what I want to do this season and when I say it, I look at them and say 'WE'RE going to do this.' I'm very confident in the team we have. It's better when you have a group that gets to win with you instead of by yourself. It's so much better when you can help your team get to that level, too."
 
Tausaga wants to see her team succeed as much as she has the past two seasons. Her first year as a Hawkeye was not an average experience for a freshman student-athlete. She ended her first season with a Big Ten outdoor title (180-5, 55.00m) and an All-America honor (182-9, 55.71m) at the NCAA Championship in discus.
 
"Coming into the situation, one year ago, I knew that she was a very talented discus thrower," assistant coach Eric Werskey said. "She was an All-American as a true freshman, a National Junior Champion, and set the PanAm Junior Record. I knew the stakes were pretty high, and I knew that she was kind of, for lack of a better word, a genetic freak in a sense when it came to weight room and strength."
 
Tausaga's sophomore year only proved how much she had matured in the sport. Not only did she repeat her Big Ten outdoor title in the discus throw (58-39, 191-07), but she also added a shot put title to her resume (55-01 1/2, 16.80m), and again earned All-America honors in discus. This time she placed fourth (183-11, 56.07m) at the NCAA Championships. She also earned All-America honors in the shot put (56-10 3/4, 17.34m) with another fourth-place finish.
 
What does a three-time All-American and Big Ten champion do next? She works harder and pushes her teammates to continue to improve themselves in the offseason.
 
"It starts off pretty rough for some of us," Tausaga said. "We're all coming back after a summer off, whether it's long or short. It's kind of a shock to your body when you come back. I came back early during the summer to train and hit the ground running in conditioning, and I'm doing well. I'm excited for the season."
 
With the weight training and technical workouts that she is working on in the offseason, Tausaga has two goals in mind.
 
"My goals are to make sure that I can make it into indoor nationals this year," Tausaga said. "It's completely possible with everything that coach (Werskey) and I have discussed. The second is to win an NCAA title sometime in these next two years."
 
Tausaga begins her junior season on Dec. 8 as the Hawkeyes host their first of four indoor meets, the Jimmy Grant Open.