Hawkeye Fan Shop — A Black & Gold Store | 24 Hawkeyes to Watch | Fight For Iowa
Hannah Burvill is a junior freestyler on the University of Iowa women's swimming and diving team. The Pyrford, England, native returns after qualifying for the NCAA Championships in the 100 free and 200 free. 
You have a strong schedule this year, What goals does the team hope to accomplish?
"Our weekly training schedule has been mapped out for us and our weekly meetings are helping us be equipped for our big matchups. Keeping the training hard will help us be prepared for those big meets in the near future."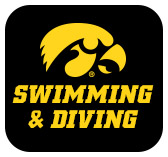 How has the team transitioned from last year to this year?
"The transition has been good. Our team is a little smaller, but we're more connected. We've all come together and been really cohesive."
What has been your favorite memory surrounding the team?
"When we do our challenging sets, one of our coaches Sarah (Stockwell-Gregson) will write a motivational quote on the board. She has brought a good energy that has sparked something in us."
How have the other international swimmers helped you personally?
"Over the summer, I trained a lot with Kenneth (Mende) and he taught me a lot about his style of training. Having such a diverse team has taught me so much about our team and strengthened us as a unit."
What is your best advice for this year's freshman?
"Put your head down and get the hard training out of the way now so in the coming months you'll feel better about where you're at."
What is the best advice you were given by a coach?
"Embrace the pain of your race and keep your head down. It's going to hurt regardless so you might as well embrace it. Have that strength in your abilities to finish your race strong."
Who has been the most influential person you experienced since you came to Iowa?
"The distance group on the team has been a great support for me to get through some hard practices."
What made you choose Iowa?
"I was thoroughly impressed with the university and the way they give opportunities to international students. Also when I toured I really enjoyed the people, facilities, and atmosphere."
If not swimming, what other sport would you enjoy the most?
"If I wasn't in swimming, I would be in volleyball or horseback riding."
What do you do to prepare before meets?
"I drink beet juice before I swim. Without it I feel as if I'm swimming slower."
What is your favorite place to be on campus?
"I spend a lot of time at the Gerdin Athletic Learning Center, but I also enjoy being at Java House."
Favorite meal?
"It would have to be spaghetti with beans and beets."
Favorite movie?
"I enjoy thrillers, but I have no specific favorite."
Favorite book?
"The Slight Edge, it was great to read that as a team"
Who is your favorite person on the team to be around and why?
"Allyssa Fluit. She has been a good support system for me because we swim the same events. It also helps us because we are both competitive and we push each other. We have a great friendship."