Hawkeye Fan Shop — A Black & Gold Store | 24 Hawkeyes to Watch 2018-19 | Hawk Talk Monthly — September | Box Score (PDF) | Boxscore
LINCOLN, Neb. — The University of Iowa volleyball team (10-6, 2-3 Big Ten) fell to #3 Nebraska (14-1, 5-0 Big Ten), in four sets on Wednesday night inside the Bob Devaney Sports Center.
Senior Taylor Louis led the Hawkeyes with 12 kills followed by junior Cali Hoye's 11 kills. Sophomore Brie Orr tallied 26 assists. Senior Molly Kelly had 16 digs.
HOW IT HAPPENED
SET 1 (10-25) | Senior Taylor Louis started the match off with a kill to give Iowa its first and only lead of the set. The Huskers responded with three kills and an ace before a kill by junior Cali Hoye halted the run. However, a three-point run, a pair of four-point runs, and a five-point run for the Huskers suppressed the Iowa offense as the team looked toward set two.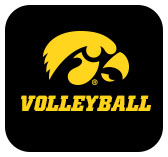 SET 2 (25-23) | The Hawkeyes came out strong in the second set, opening up on an 8-4 run before forcing a Nebraska timeout. An Iowa service error allowed Nebraska to crawl back in and tie the score at 16, but blocks by freshman Amiya Jones and Hoye started another Iowa run leading to Nebraska's second timeout. Iowa and Nebraska traded blows until Iowa called a timeout leading 21-20. Louis and senior Reghan Coyle recorded back-to-back kills and Iowa won the second set after two Nebraska attack errors.
SET 3 (15-25) | Iowa fell behind in the third set 6-15 before back-to-back kills by Louis gave the Hawkeyes momentum, but it didn't last as the Huskers rallied off three consecutive kills to force an Iowa timeout, trailing 11-21. Iowa found its footing following the timeout with Hoye rallying off three quick kills. Louis got in the action with a kill of her own to make the score 15-24, but the Huskers closed out the third set.
SET 4 (11-25) | Sophomore Brie Orr started the fourth set with a kill, but that was the last time Iowa scored until Nebraska had eight points. Back-to-back blocks by Orr and Jones forced a Nebraska timeout, leading 9-14. Following the timeout, Louis notched two kills to make the score 11-17, but Iowa surrendered an eight point run to end the set and match.
NOTABLES
·       Iowa's second set victory was the team's first set win over Nebraska since 1987.
·       Senior Taylor Louis' 12 kills marks the 13th time that she has eclipsed double-digit kills this season.
UP NEXT
The Hawkeyes return to Carver-Hawkeye Arena for their annual Dig Pink match against #6 Wisconsin on Saturday at 7 p.m. (CT). Tickets for the match are available on hawkeyesports.com/tickets or over the phone at 800-IA-HAWKS.