Hawkeye Fan Shop — A Black & Gold Store | Hawk Talk Monthly — October 2018 | 24 Hawkeyes to Watch 2018-19 | Photo Gallery | Box Score (PDF) | Boxscore
IOWA CITY, Iowa — The University of Iowa volleyball team (11-6, 3-3 Big Ten) defeated No. 6 Wisconsin (11-3, 4-2 Big Ten), 3-2, on Saturday night inside Carver-Hawkeye Arena.
Junior Cali Hoye led Iowa with 30 kills followed by senior Taylor Louis' 24 kills. Senior Molly Kelly had 22 digs and sophomore Brie Orr added 59 assists.
HEAR FROM COACH SHYMANSKY
"It was a fantastic performance by our left side hitters, especially Cali Hoye. I can't say enough about her and how great she has been to our program. She is a kid that has been built from the grassroots up. She sat on the bench for two years and then was a big part of our bench press and the excitement and energy from the sideline and now she is on the court leading us with 30 kills. What a herculean effort by her, but also the whole team. This was a huge win for the Hawkeye program and we had an awesome crowd. This place was rocking. Now we go back out on the road and we will keep grinding."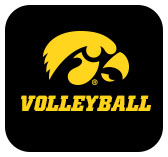 HOW IT HAPPENED
SET 1 (22-25) | The Hawkeyes and Badgers opened up by battling back-and-forth through four points before Wisconsin took a 5-10 lead. Wisconsin continued to build a lead and took a 10-19 lead before sophomore Brie Orr's kill got the Hawkeyes going as they rallied off four straight points to make the score 14-19. Wisconsin called a timeout and traded points until the Badgers took the first set.
SET 2 (25-22) | Iowa and Wisconsin traded points until Iowa took its first commanding lead of the night at 13-9 to force a Badger timeout. Iowa continued to pour it on after the timeout, stretching its lead to 20-15, but Wisconsin continued to battle and closed the gap to 24-22. Senior Taylor Louis closed the second set with a kill to even the match.
SET 3 (25-22) | Iowa fell behind in the third set to 9-13 before an Iowa timeout. Wisconsin continued to build a lead out of the timeout until Louis took over for the rest of the set. With Iowa down 14-20, Louis scored six of Iowa's next seven points, including back-to-back aces to give Iowa a 22-21 lead. Junior Cali Hoye earned two kills of her own and a Wisconsin error gave Iowa the set.
SET 4 (19-25) | Wisconsin came out in the fourth set and took a commanding 5-10 lead over Iowa. The Hawkeyes battled to stay in the set, bringing the score to 17-20 after a block by freshman Sarah Wing  and senior Reghan Coyle, but Wisconsin prevailed in the fourth to force a fifth and final set.
SET 5 (15-12) | It was all Iowa in the fifth. The Hawkeyes switched sides leading 8-2 as Hoye and Louis traded kills. Wisconsin brought the score within two with a flurry of blocked attacks, but Louis sealed the win with her 24th kill of the match.
NOTABLES
Junior Cali Hoye's 30 kills are a career high and most for an Iowa player in a game since Julie Williams in 1997.
Senior Taylor Louis' three service aces are a career high.
Iowa drew the 11th largest crowd in school history with 2,361 in attendance.
This marks Iowa's first win over Wisconsin since Nov. 11, 2009.
UP NEXT
The Hawkeyes head to Piscataway, N.J., for a mid-week showdown against Rutgers at 6 p.m. (CT).