Hawkeye Fan Shop — A Black & Gold Store | 24 Hawkeyes to Watch 2018-19 | Women's Cross Country Home Page | Womens Red Race
IOWA CITY, Iowa — University of Iowa senior Megan Schott led the Hawkeyes at the Bradley "Pink" Classic with a 12th place finish (21:02.2) in the 6,000 meters.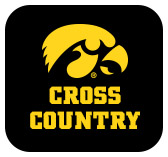 The Hawkeyes placed sixth overall in a 39-team field behind three top 30 performances. Andrea shine placed 14th and Anna Hostetler checked in at 27th. 
 
QUOTING COACH HASENBANK
 
"We competed very well today. Sixth against a field of 39 teams. This was a nice test for the ladies and I thought they handled it well. Megan, Andie, and Anna gave us a great 1-2-3 punch. That kind of fire power up front really helps the team score. In addition, I thought Grace McCabe had a great race. We had a lot of young runners in the lineup. They competed very well and ran very solid times in only their second 6k. We also closed the gaps in our line up significantly."
NOTABLES
Senior Megan Schott led the Hawkeyes for the first time with a season-best time of 21:02.2, beating her previous best 6,000 meters by a minute.
Andrea Shine ran her fastest 6,000 meters of the season in 21:02.2.
Freshmen Anna Hostetler (21:25.8), Grace McCabe (21:54.0), Jessica McKee (22:25.6), Ashley Bryja (22:46.9), Kylie Latham 22:57.1and senior Ashley Espinosa 23:37.4 each ran their fastest 6,000 meters of the season. Hostetler finished in third scoring position, McCabe in fourth, and McKee closed out the fifth scoring position for the Hawkeyes.
 
NEXT FOR THE HAWKEYES
The Hawkeyes close the regular season in two weeks at the Illini Open on Oct. 19. The postseason begins Oct. 28 at the Big Ten Championships hosted by Nebraska.
FOLLOW THE HAWKEYES
For an inside look at the Iowa cross country program and to access exclusive coverage, "like" The University of Iowa Cross Country and Track & Field Facebook page and follow @Iowa XC T&F on Twitter.