Hawk Talk Monthly — October 2018 | Hawkeye Fan Shop — A Black & Gold Store | 24 Hawkeyes to Watch 2018-19 | Men's "Cardinal" Results | Men's "Gray" Results (PDF)
MADISON, Wis. — University of Iowa junior Nathan Mylenek led the Hawkeyes' cross country team in the "Cardinal" 8,000 meters at the NCAA Pre-Nationals on Saturday hosted by Big-Ten Wisconsin.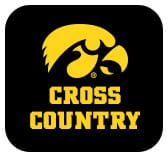 Mylenek's 24:39.7 finish is his best time of the season in the 8,000 meters. Following Mylenek in the second scoring position was senior Daniel Soto Junior Karson Sommer was the third Hawkeye to cross the finish. He raced a career-best 25:08.2.
 Senior Bailey Hesse-Withbroe was the fourth (25:19.0) Hawkeye to cross the finish line and junior Brandon Cooley closed out the fifth scoring position (25:25.9).
 
QUOTING COACH HASENBANK
"Overall, the men came eyed much, much better that we did two weeks ago at Notre Dame," head coach Randy Hasenbank said. "We did a much better job of establishing the team early in the race. I think we had four men within a couple seconds of each other at 2,500 meters, much better and more assertive early in the race. Nate and Dan led us again up front. I thought Karson competed very well, and Bailey ran very strong on the back half of the course. The gap from 1-5 was much better."
NOTABLES
Sophomore Noah Healy ran his career fastest 8,000 meters in 25:39.5. 
In the "Gray" open 8,000 meters, senior Daniel Murphy and sophomore Jeff Roberts each picked up career-best times of 25:27.5 and 26:12.1, respectively.
Season best times were also registered by Bailey Hesse-Withbroe (25:19.0), Brandon Cooley (25:25.9), and freshman Spencer Smith (25:51.2). 
NEXT FOR THE HAWKEYES
The Hawkeyes close the regular season in two weeks at the Illini Open on Oct. 19. The postseason begins Oct. 28 at the Big Ten Championships hosted by Nebraska.
FOLLOW THE HAWKEYES
For an inside look at the Iowa cross country program and to access exclusive coverage, "like" The University of Iowa Cross Country and Track & Field Facebook page and follow @Iowa XC T&F on Twitter.