24 Hawkeyes to Watch 2018-19 | Hawk Talk Monthly — October 2018 | Hawkeye Fan Shop — A Black & Gold Store | Box Score (PDF) | Boxscore
MINNEAPOLIS — The University of Iowa volleyball team faltered against No. 3 Minnesota in three sets on Friday night inside Maturi Pavilion.
Senior Reghan Coyle led Iowa with 14 kills, sophomore Brie Orr notched 34 assists, and senior Molly Kelly recorded 27 digs for the second highest total in her career.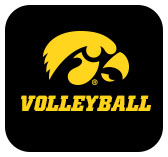 HOW IT HAPPENED
SET 1 (23-25) | Iowa and Minnesota traded points in the first set with kills by junior Meghan Buzzerio, senior Reghan Coyle, and freshman Amiya Jones before Iowa took a 11-7 lead thanks to three consecutive points by senior Taylor Louis. Minnesota tied the score at 13 and held onto a small lead until its 24th point. With the help of back-to-back kills by Louis, Iowa brought the score to within one at 23-24, but a service error gifted the Gopher the first set victory.
SET 2 (18-25) | The Hawkeyes got off on the wrong foot in the second set, giving up a 7-0 run to start the set before scoring a point. Louis helped kick start Iowa's offense with a couple kills, but the Hawkeyes had a big hole to dig out of. Iowa brought the score within five points at 16-21, but had little room for error. Minnesota closed the second set after an Iowa service error.
SET 3 (20-25) | The Hawkeyes had a much faster start in the third set, taking a 7-4 lead before the Gophers battled back to take a 15-19 lead. Iowa starting closing the gap, finishing off a couple long rallies for points. Iowa trailed 17-22 until a 3-0 run brought the Hawkeyes within three, but the Gophers prevailed and closed the set and match.
MILESTONE WATCH
After her 34 assist performance, sophomore Brie Orr is 19 assists away from 2,000 in her career.
UP NEXT
The Hawkeyes continue their Midwest road trip at No. 9 Wisconsin on Sunday at 1 p.m. (CT). Live audio Sunday's match are available through KXIC 800AM with Tim Keating on the call. Live results of the match are available on hawkeyesports.com/vblive.