Hawk Talk Monthly — October 2018 | 24 Hawkeyes to Watch 2018-19 | Hawkeye Fan Shop — A Black & Gold Store – https://hawkeyefanshop.com/?utm_source=HawkeyeSports&utm_medium=HawkeyeSports&utm_campaign=HawkeyeSports | Box Score (PDF) | Boxscore
MADISON, Wis. — Sophomore setter Brie Orr notched her 2,000 career assist, but the University of Iowa volleyball team fell to No. 9 Wisconsin in three sets on Sunday afternoon.
Senior Reghan Coyle led Iowa with 10 kills, Orr added 27 assists, and junior Emily Bushman added a team-high 14 digs.
HOW IT HAPPENED
SET 1 (18-25) | The Hawkeyes dug an early hole, trailing 1-4, before closing the Badger gap to 4-5. Wisconsin remained steady despite a flurry of Iowa attacks and took a 7-13 lead to force the Hawkeyes to call a timeout. Iowa showed signs of life with a three point run out of the team's second timeout to make the score 14-19, but couldn't muster enough momentum to shift the tide as Wisconsin took the first set.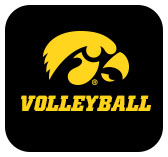 SET 2 (13-25) | Iowa continued to be haunted by slow starts, allowing Wisconsin to open up a 5-12 lead. A three point run with kills by freshmen Amiya Jones and Hannah Clayton looked to give life to the Hawkeyes, but already down 8-19, the deficit proved to be too much. The Hawkeyes went into the intermission with the goal of making it a five set match.
SET 3 (21-25) | Determined to extend the match beyond three sets, Iowa went point for point with the Badgers, taking a slim lead at 12-11 before giving up a three point run and calling a timeout. Iowa responded with its own run to force a Wisconsin timeout and continued to trade points. Wisconsin took a 20-22 lead as the Hawkeyes called their final timeout of the set. Wisconsin added a kill out of the timeout and a net violation by Iowa gave the Badgers match point. Wisconsin closed the set and match with a kill.
MOVING UP THE LEADERBOARD
Orr became the ninth person in program history to record 2,000 assists. Her assist came on Iowa's 10th point of the third set – kill by Coyle along Wisconsin's right side.
UP NEXT
The Hawkeyes return to Carver-Hawkeye Arena on Wednesday for a matchup against Northwestern at 8 p.m. (CT). The match will air live on the Big Ten Network. Tickets for the match are available on hawkeyesports.com/tickets.