Hawk Talk Monthly — October 2018 | Hawkeye Fan Shop — A Black & Gold Store | 24 Hawkeyes to Watch 2017-18 | Live Stream | Big Ten Championships Page | Live Results
IOWA CITY, Iowa — The University of Iowa men's and women's cross country teams head into the postseason to race at the 2018 Big Ten Championships in Lincoln, Nebraska, on Sunday. The teams race at Mahoney Golf Course. The women's 6,000 meters starts at 10:45 a.m. (CT). The men's 8,000 meters begins at 11:45 a.m.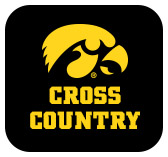 HOW TO FOLLOW
Results are posted on the Iowa cross country Twitter account: @Iowa XC_TF and online at hawkeyesports.com. They will also be posted at Huskers.com.
The championships will be live streamed on BTN Plus on the BTN2Go platform and through the FOX Sports app and will air on BTN on a tape-delayed basis at 7 p.m. (CT) on Monday, October 29.
HAWKEYES RANKED 6TH IN MIDWEST REGION
The University of Iowa men's cross country team is ranked sixth in the Midwest Region, jumping up three spots in the latest United States Track & Field and Cross Country Coaches Association poll.
The women's team is ranked eighth in the USTFCCCA Midwest Regional poll in week five. 
CHANGE OF PACE
Nathan Mylenek and Megan Schott led the Hawkeyes in their respective races two weeks ago. Mylenek ran his fastest 8,000 meters of the year in 24:39.7 at NCAA Pre-Nationals in Madison, Wisconsin. Schott ran a personal best 6,000 meters in 21:02.2 at the Bradley "Pink" Classic.
6K NOTABLES
The Big Ten Championships mark the third 6,000-meter race for the Hawkeye women. Andrea Shine and Megan Schott have split the first scoring position at the Woodey Greeno Invite (Sept. 15) and Bradley "Pink" Classic (Oct. 12), respectively.
8K NOTABLES
The Hawkeye men are running their third 8,000-meter race of the season. They placed second at the Woody Greeno Invite on Sept. 15, and 16th at the NCAA Pre-Nationals on Oct. 13. Daniel Soto and Nathan Mylenek scored in the first and second scoring positions in both races, alternating positions in each race. 
BIG TEN EXPERIENCE
On the men's team, seven Hawkeyes have run at the Big Ten Championships. Daniel Soto, Nathan Mylenek, Daniel Murphy, Karson Sommer, and Brandon Cooley return for their third Big Ten Championships, and Ian Eklin and Bailey Hesse-Withbroe will mark their fourth. 
Andrea Shine is the only woman on the Hawkeyes' team to previously compete  in the Big Ten Championships, and Sunday will mark her fourth appearance. 
WOMEN'S TOP RUNNERS
Andrea Shine was the top finisher in the 5,000 meters  this season, and Megan Schott finished in a close second scoring postion at the Joe Piane – Notre Dame Invitaitonal.
Schott was Iowa's top runner at the Bradley "Pink" Classic to weeks ago. 
Shine has led the Hawkeyes in three of four races. 
The Hawkeye women prove to have a strong freshmen class. At the Bradley "Pink" Classic, Anna Hostetler finished in the third scoring position (21:25.8), Grace McCabe in fourth (21:54.0), and Jessica McKee closed out the final scoring position (22:25.6) with season best 6,000-meter times. Hostetler has finished in the third scoring position in all four races this season.
MEN'S TOP RUNNERS
Senior Daniel Soto and junior Nathan Mylenek will both be running in the Big Ten Championship 8,000 meters, following consecutive one, two finishes at Woody Greeno Invite and Joe Piane-Notre Dame Invite, and NCAA Pre-Nationals. 
Mylenek was Iowa's top finisher at NCAA Pre-Nationals. He led Iowa in five of six races last year. 
Soto has been Iowa's top finisher in three of four races.
At Wisconsin, the Hawkeyes saw career top f+inishes from junior Karson Sommer and sophomore Noah Healy in the "Cardinal" Pre-National 8,000 meters. Sommer and Healy each bested their 8,000 meter times, finishing 25:08.2 and 25:39.5, respectively.  
In the "Gray" open Pre-Nationals 8,000 meters, senior Daniel Murphy and sophomore Jeff Roberts each picked up career-best times of 25:27.5 and 26:12.1, respectively.
NEXT UP FOR THE HAWKEYES
The postseason continues on Nov. 9 when the Hawkeyes travel to Peoria, Illinois to compete in the NCAA Midwest Regionals.
LINK UP WITH THE HAWKEYES 
For an inside look at the Iowa cross country program and to access exclusive coverage, "like" The University of Iowa Cross Country and Track & Field Facebook page and follow @IowaXC_TF on Twitter.