IOWA CITY, Iowa – – TheUniversity of Iowa Athletics Department is transitioning its email marketing services to a new service. This system provides enhanced tools and capabilities to serve Hawkeye fans through an efficient and turnkey method of communication.
In the coming days fans of the Hawkeyes will receive an email from updates@email.hawkeyesports.com, allowing them to update their preferences. Fans are asked to add the new account information to their address book or safe senders list.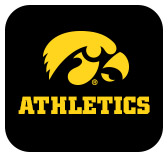 Fans who are not already signed up to receive official information from the Hawkeyes can click HERE to join the new platform.
"In our continued effort to enhance the fan experience at every interaction, we are upgrading our email marketing services to a new platform," said Charlie Taylor, associate athletics director for strategic communications and marketing. "The goal is to provide better service in the form of email personalization, so fans will only receive the information they want to receive.
Through the new email system, subscribers will receive weekly and monthly emails highlighting stories, upcoming events, ticket details, and merchandise information.  In the coming months, additional services will be added to Hawkeye events welcoming fans with venue information that may include event specific discounts.
The transition to the new platform will be completed by Oct. 30 with the first weekly email.  The previous daily featured news article, Hawk Talk Daily, will now be easily accessible on hawkeyesports.com each morning.
For those who have questions regarding the new service or adding updates@email.hawkeyesports.com to their safe senders list, please contact Iowa Athletics at 1-800-IAHAWKS.