Hawk Talk Monthly — October 2018 | Hawkeye Fan Shop — A Black & Gold Store | Fight For Iowa | 24 Hawkeyes to Watch
Jayah Mathews is a sophomore diver on the University of Iowa women's swimming and diving team. The Sydney, New South Wales, Australia, native currently sits 10th in the Iowa record books off the 1-meter and 3-meter springboards. 
How has your experience been as an international student-athlete?
"It has been good. I had expectations when I came here, but they have gone above and beyond helping us with whatever we need."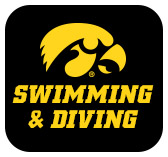 What are your individual goals and team goals for the season?
"Last year was a learning experience for me, I just want to improve on what we did last year. As a team that's all we want to do, succeed as Hawkeyes and move up the rankings."
How has the team transitioned from last year to this year?
"Getting new people is always good, we changed the team dynamic a bit."
What has been your favorite memory surrounding the team so far?
"Big Ten Championships last year was awesome because I had never been in a meet that size before. Having everyone there cheering us on was amazing."
What is your best advice for this year's freshmen?
"To learn from everything you do. Don't take anything too hard, you'll have three more years after this to improve on yourself."
What is the best advice you have ever been given by a coach?
"Todd is the best coach I have ever had in terms of caring for me. He has told me to care about who I am as a character instead of as an athlete."
Who has been the most influential person to you since you came to Iowa?
"My roommate Claire Park. She is always there to keep me and the whole team up."
What made you chose Iowa?
"Honestly the team. When I looked at other universities, Iowa's team just felt like a family and the facilities are really nice here."
If not swimming, what other sport would you like to do the most?
"Track and field. I used to run track when I was little and loved it. I ran the longer distance events and it would be interesting to do those again."
Do you have a pre-dive ritual?
"I listen to EDM to get myself pumped up."
What is your favorite place to be on campus?
"I like the pool, I'm comfortable being here all the time."
Favorite meal?
"Grilled chicken and roasted vegetables"
Who is your favorite person on the team to be around and why?
"Claire Park because she's a great support system."
Favorite Movie?
"I like horror movies in general."