Hawkeye Fan Shop — A Black & Gold Store | Hawk Talk Monthly — October 2018 | Fight For Iowa | 24 Hawkeyes to Watch
Tanner Nelson is a senior on the University of Iowa men's swimming and diving team. He is a breaststroker and Bettendorf, Iowa, native.
What has your experience swimming for Iowa been like leading up to your senior year?
"I started with a rough patch, but something clicked my junior year. That experience taught me a lot and now I know what works and what doesn't work for me. I've learned how to be a supportive teammate and have good character."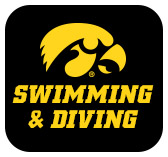 What goals do you and the team hope to accomplish?
"We always strive to have a good team GPA and place high in the Big Ten. For myself, something has clicked recently and I feel I can contribute both on the academic side and swimming."
How has the team transitioned from last year to this year?
"People have come out of their shells and sprouted. Everyone is vocal and everyone has strong reasonable goals. A few people are destined for more and I'm here to be an example of that."
What has been your favorite memory surrounding the team?
"All the fun relays we get to do like the wet t-shirt relay or jumping over the bulkhead."
What is your best advice for this year's freshmen?
"Don't be afraid to ask questions in class and make connections with professors. Use the resources you are given."
What made you chose Iowa?
"I was born and raised a Hawkeye. I grew up watching Iowa football and I'm a 'Momma's boy' so I like to stay close to home. Everything that I ever wanted is offered here."
If not swimming, what other sport would you enjoy doing the most?
"Volleyball, because both my sister and mother have both done it. If there was a men's team I may have tried out."
Do you have a pre-meet ritual?
"I don't like to be the first person in the water, but when I first get in I'll bob up and down for a 50 before I really get going. It may be annoying for other people in my lane, but I have to do it."
What is your favorite place to be on campus?
"Most likely the Pentacrest because I know all the best spots to sit and I get to see so many people walk by on a sunny day."
Favorite meal?
"Steak or chicken with mashed potatoes, corn, and unlimited dinner rolls."
Who is your favorite person on the team to be around and why?
"Michal Brzus. He's high energy, so I love to bounce energy off of him. We goof around in the middle of sets to keep things fun."
Favorite movie?
"The Star Wars Saga"
Favorite book?
"Anything Dr. Suess. I like to keep things funny and simple."